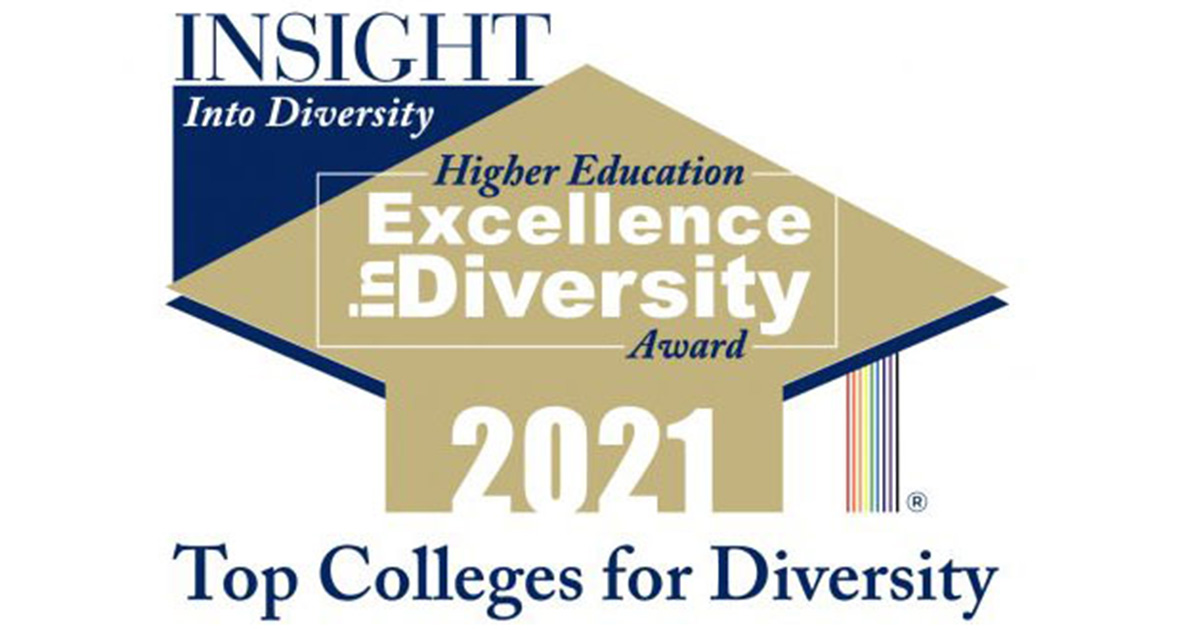 Saint Paul, Minnesota Sept. 21, 2021 — Today, Metropolitan State University received the 2021 Higher Education Excellence in Diversity (HEED) Award from INSIGHT Into Diversity magazine, the oldest and largest diversity-focused publication in higher education. As a recipient of the annual HEED Award — a national honor recognizing U.S. colleges and universities that demonstrate an outstanding commitment to diversity and inclusion — Metropolitan State University will be featured, along with 100 other recipients, in the November 2021 issue of INSIGHT Into Diversitymagazine. Having received this award in 2016, 2017, 2018, 2019, and 2021, this is the fifth year Metropolitan State University has been named as a HEED Award recipient.
"This award reflects the commitment that all of our Metropolitan State community brings to achieving social mobility for the university's students and social justice for our communities. I am grateful for all of this work," says university President Ginny Arthur.
INSIGHT Into Diversity magazine selected Metropolitan State University for its strategic and innovative approach to serving a diverse community of students, faculty, and staff. Our equity, inclusion and anti-racism work is grounded in our institutional values of excellence, engagement, racial equity, inclusion, and respect. As an institution greatly impacted by the death of George Floyd, Daunte Wright, and countless other black men killed at the hands of police, our work to address issues of racial equity, diversity, and inclusion became that much more urgent in the past few years.
Under the leadership of Vice President of Equity and Inclusion, Dr. Josefina Landrieu and the Equity, Inclusion and Anti-Racism Council, the university focused on key campus climate, faculty diversity, and student success strategies.
In early 2021, Metro State implemented an employee and student campus climate assessment in order to embark in meaningful and intentional work to ensure that an ever-growing diverse university community can learn and work in inclusive and welcoming environments.
Other important strategies include the implementation of Equity Champions (advocates) in all faculty and administrator searchers. These advocates are specially trained individuals who serve as members of search advisory committees to offer guidance, facilitation, and feedback to search committee chairs and committee members and ensure that search processes and practices are equitable for all candidates. Since establishing this strategy in 2019, the university saw a sharp increase in the hiring of faculty of color. Metropolitan State University is also proud of the Faculty of Color Mentorship Program. A key initiative implemented and led by faculty members to strengthen the retention of faculty of color. This program provides its members with cross-race/ethnicity mentoring, resources for professional development, strategic networking with peers, professional organizations, and communities of shared interests, a network of support and opportunities for leadership development.
Through a cross-functional team; in 2020 the university began the implementation of Equity by Design. This is a multi-year, university-wide student success strategy. More importantly, it is a data-informed, equity-minded methodology aimed to dig deep and address educational disparities among Black, Indigenous, and students of color. Equity by Design does not only help identify the university's student populations that are impacted by the disparities but it creates a network of equity agents equipped in using data and inquiry to close racial equity gaps in student outcomes.
 "The HEED Award process consists of a comprehensive and rigorous application that includes questions relating to the recruitment and retention of students and employees — and best practices for both — continued leadership support for diversity, and other aspects of campus diversity and inclusion," said Lenore Pearlstein, publisher of INSIGHT Into Diversity magazine. "We take a detailed approach to reviewing each application in deciding who will be named a HEED Award recipient. Our standards are high, and we look for institutions where diversity and inclusion are woven into the work being done every day across their campus."
For more information about the 2021 HEED Award, visit insightintodiversity.com.
About INSIGHT Into Diversity
INSIGHT Into Diversity magazine is the oldest and largest diversity publication in higher education today and is well-known for its annual Higher Education Excellence in Diversity (HEED) Award, the only award recognizing colleges and universities for outstanding diversity and inclusion efforts across their campuses. In addition to its online job board, INSIGHT Into Diversity presents timely, thought-provoking news and feature stories on matters of diversity and inclusion across higher education and beyond. Articles include interviews with innovators and experts, as well as profiles of best practices and exemplary programs. Readers will also discover career opportunities that connect job seekers with institutions and businesses that embrace a diverse and inclusive workforce. Current, archived, and digital issues of INSIGHT Into Diversity magazine are available online at insightintodiversity.com.
Metropolitan State University, a member of Minnesota State, is the Twin Cities public, urban, comprehensive state university providing lifelong learning, and competitive academic and professional degree programs at the bachelor, master and doctoral levels.