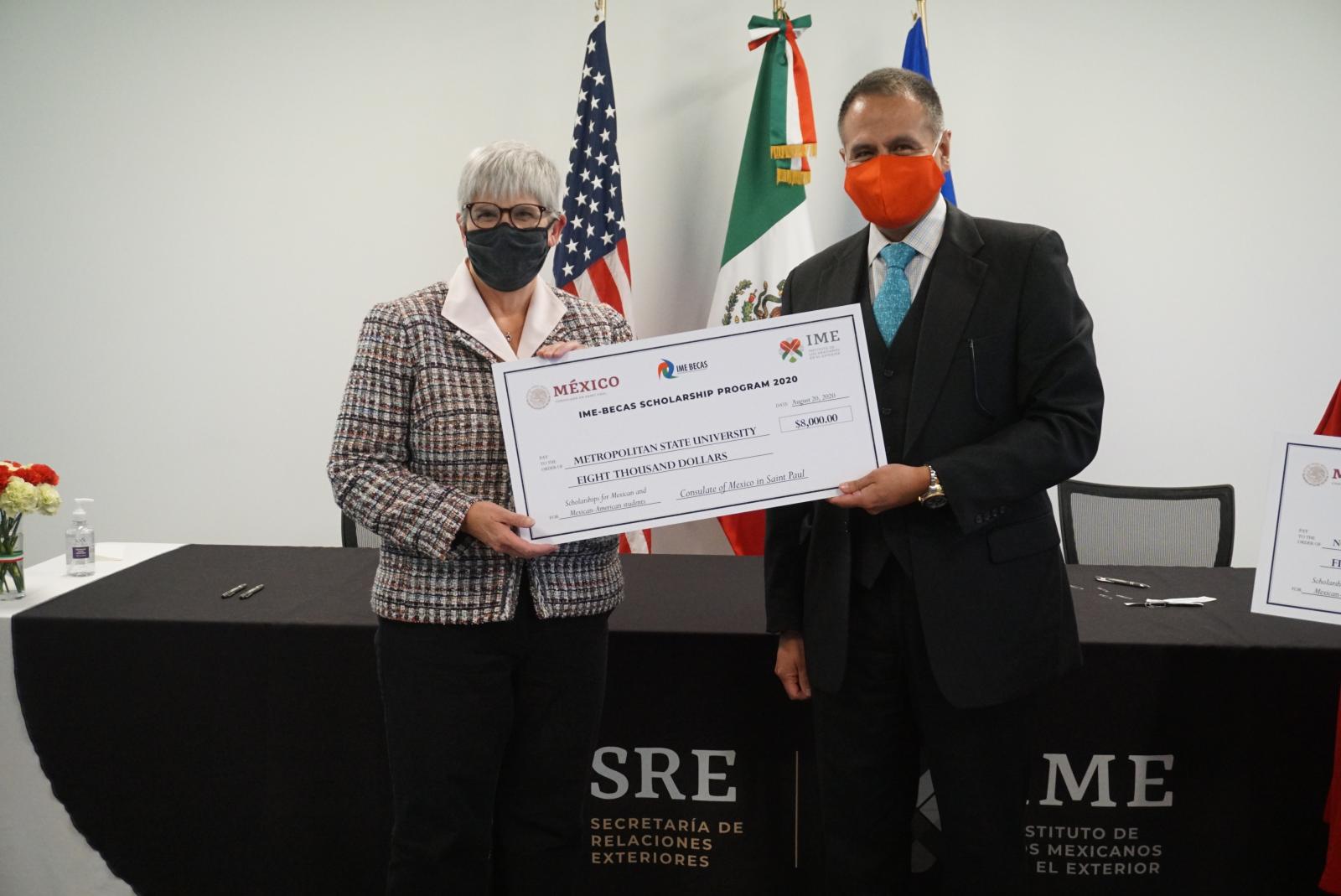 Metropolitan State University and the Consulate of Mexico in Saint Paul signed a memorandum today continuing a scholarship sponsored by the Institute of Mexicans Abroad (IME) Fellowship Program.
The memorandum was signed by Metropolitan State President Virginia "Ginny" Arthur and Head Consul Gerardo Guerrero Gomez of the Consulate of Mexico in Saint Paul, Aug. 20 at the Consulate of Mexica in  Saint Paul. This year, Metropolitan State is joined by its Minnesota State partner institutions Century College, Normandale Community College, and Riverland Community College, which are also signing the memorandum.
The IME-BECAS Program is another important opportunity to serve Latino students of Mexican origin and ancestry attending Metropolitan State University.  In partnership with the Mexican Consulate, IME-BECAS is a scholarship program instrumental in alleviating some of the financial strains that impede students from accessing and pursuing their postsecondary education.
"Metropolitan State is again honored to be chosen to participate in distributing IME-BECAS scholarships to our eligible students," President Arthur said. "The University's students of Mexican descent continue to make valuable academic contributions and are vital to our vibrant, supportive campus experience. We at Metropolitan State deeply appreciate the partnership of Consul Guerrero and his team at the Mexican Consulate in Saint Paul to support these deserving students as they fulfill their potential and dreams."
"Our students face big challenges when they choose to continue to study, many of which are shared among all first-generation college and university students. Challenges, such as gaining access to affordable institutions with high quality programs,and access to robust student support services, " says Consul Gomez. "You are not only changing the lives of one student at a time, but radically affecting the future prospects of their families and in turn, benefitting this great state of Minnesota."
The $8,000 award will be matched by the University to award scholarships of $1,200 to degree-seeking undergraduate students of Mexican ancestry who are enrolled at Metropolitan State University. In 2019, the scholarship helped 26 students continue their education at Metropolitan State. More than 50 Metropolitan State students have benefitted from this scholarship since 2015. Contact Maya Sullivan, Dean of Students, for information. Applications may be obtained by emailing dean.students@metrostate.edu.
Latinos are one of the fastest growing segments of the US population. This is illustrated by the fact that today the United States is the second largest Spanish-speaking country in the world after Mexico. Over the course of the last two decades, the Latino population in the state of Minnesota has also experienced unprecedented growth, with a significant portion coming from an influx of new immigrants from Mexico. This growth is even mirrored by the Latino student enrollment at Metropolitan State University.