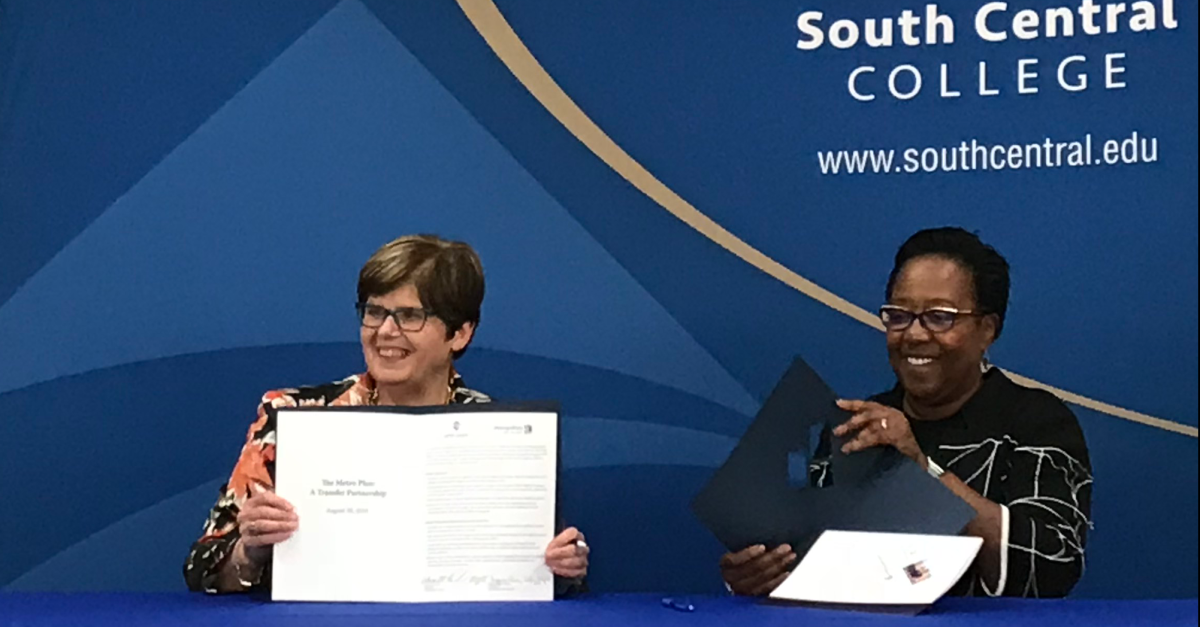 Metropolitan State University and South Central College (SCC) in Faribault and North Mankato announced on Aug. 30 a partnership that will benefit SCC's Professional Nursing (RN) students and graduates. 
Both SCC and Metropolitan State are part of the Minnesota State system, which includes 30 colleges and seven universities. Under this system's RN to BSN program, individuals graduating from any Minnesota State college with an Associate of Science (AS) degree in nursing and a GPA of 2.5 or better are guaranteed admission into any state university Bachelor of Science in Nursing (BSN) program, provided they have passed their Registered Nursing (RN) licensure exam to practice in the state. 
"The Metro Plan" takes this agreement one step further by providing SCC students with a guided plan for completion of the AS degree at SCC and the BSN degree at Metropolitan State from start to finish. Faculty from both institutions worked together to create the two-step plan, which provides a seamless pathway for students.  By first earning their AS degree at South Central College and passing the state Registered Nurse (RN) licensure exam, SCC graduates are able to immediately start working in their field while pursuing their BSN at Metropolitan State. Because Metropolitan State offers many courses that are primarily online, it is easier for working adults to complete their degree. The agreement was signed by the presidents of both institutions at an event at South Central College in Faribault.
"Through The Metro Plan, aspiring registered nurses can essentially take the first two years of their bachelor's degree close to home in the nurturing environment of a community college, become licensed to start working as an RN and complete their last two years at the highly regarded Metropolitan State University," said SCC President Annette Parker.
Metropolitan State University is also the only BSN program in Minnesota endorsed by the American Holistic Nursing Credentialing Corporation, which provides their graduates with a smooth path to Holistic Nursing Certification.
"We are very pleased to enter into this partnership with South Central College's strong nursing program.  Their graduates' skills and professionalism are in great demand across Minnesota's healthcare landscape. Metropolitan State's faculty welcome this opportunity to enable SCC graduates to advance quickly along their career ladder to the advanced positions the B.S.N. will open up for them. This is a real 'win' for everyone involved, especially the residents of Faribault and North Mankato," Metropolitan State University President Virginia "Ginny" Arthur said.
About South Central College 
South Central College (SCC) is a comprehensive community and technical college that is part of the Minnesota State system with campuses in Faribault and North Mankato. The college offers programs that prepare students to immediately start a rewarding career after graduation or transfer to a 4-year institution to pursue a bachelor's degree. In addition, SCC's Center for Business and Industry provides businesses and professionals with customized training and continuing education opportunities. SCC is an Affirmative Action Equal Opportunity Employer/Educator. For more information visit www.southcentral.edu.