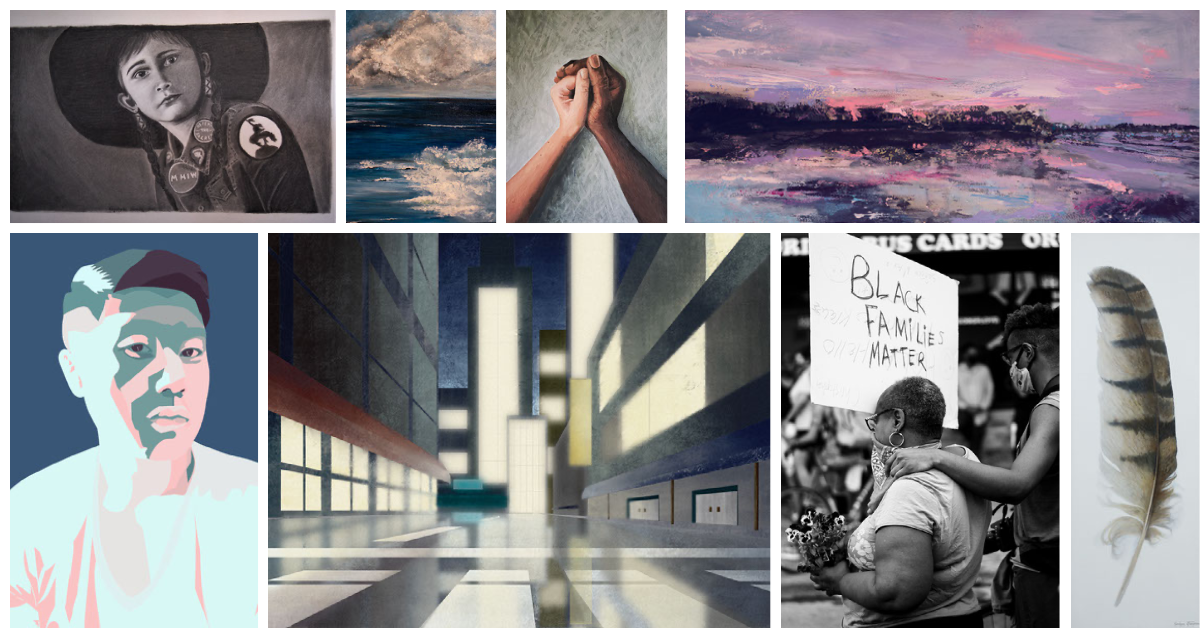 Eight works by students and alumni are announced in the selection of the Metropolitan State University 2021 Art Purchase Award.
The university Art Exhibition Committee has selected these works for acquisition:
Unity,

by Karli Chadbourn - acrylic, 20" X 16", 2020

Young Anishaanabe Girl,

by Rayshele Kamke - drawing, 11" X 14", 2021

Black Families Matter,

by Nazara Matos - photography, 24" X 18", 2020

Magdalena,

by Susan Solomon - gouache and ink, 8" X 20", 2021

Untamed,

by Kimber Starnes - acrylic, 30" X 10", 2020

Before Storm,

by Irina Vasilchenkov - acrylic, 24" X 18", 2021

Self Portrait,

by Ntomoo Xiong - digital inkjet print, 24" X 18", 2021

City Lights,

by Ntomoo Xiong - digital inkjet print, 18" X 24", 2021
The placements of the works are yet to be established.
The annual Art Purchase Award is to encourage the growth and development of student and alumni studio artists and to elevate the profile of the arts on campus. The Art Exhibition Committee orchestrates up to eight $1,000 awards, given on the basis of artistic merit.
The 2021 Art Purchase Award is generously supported by Academic Affairs, the Alumni Association, the Metropolitan State University Student Association, the Library and Learning Center Endowment and the Office of the President.
The 19th annual Art Purchase Award will take place in spring 2022. Direct inquiries to resident faculty member Amy Sands at amy.sands@metrostate.edu.