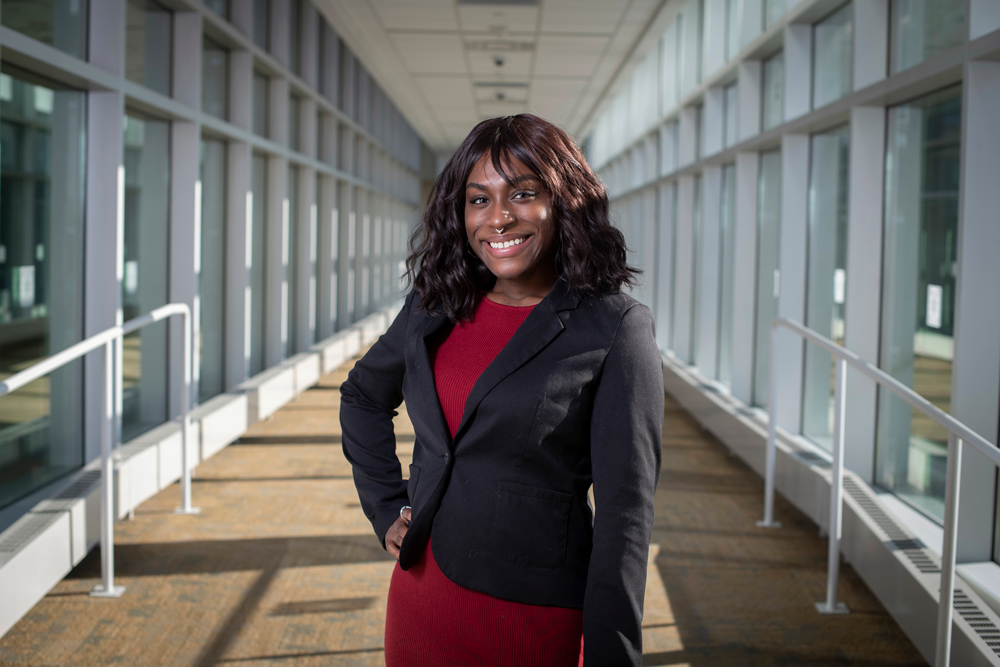 Essence Williams has been named the inaugural recipient of the George Floyd Memorial Endowed Scholarship for Racial and Social Justice.
The George Floyd Memorial Endowed Scholarship for Racial and Social Justice is awarded to an undergraduate student who demonstrates commitment to racial equity and social justice. The scholarship is made possible through the generosity of Joyce LeClaire (Retired Dean of Student Services), Grumbles Law, the trustees of the Metropolitan State University Foundation, and more than 30 alumni, faculty, staff, and friends of the university. The George Floyd Memorial Endowed Scholarship is created in memoriam of George Floyd, a Minneapolis man who was tragically killed during an encounter with police officers on May 25, 2020. The incident sparked community grief and outrage, and a summer of protest across Minnesota and the nation.
Williams works as a legal advocate at Domestic Abuse Project, a domestic violence center in Minneapolis, helping families who are fleeing or attempting to flee domestic violence.
"I knew I wanted change and could not be silent in adulthood. I knew I had to be a voice for the BIPOC community and contribute to breaking the faulty criminal justice system," Williams says. She works predominately with the African American and Little Earth communities, which are severely marginalized and low income. She attends court hearings with victims and survivors, and writes orders for protection to ensure their safety
"I was truly moved when I found out I was chosen as the recipient for the George Floyd Memorial Endowed Scholarship. This is my first-ever scholarship and I am very proud of myself," Williams says. "Not only does social justice mean a lot to me, I aim to work towards a transformative justice approach, and [Metropolitan State] helped me fund that opportunity.
"The George Floyd scholarship does not only mean funding school for me; it shows what I stand for… We need transformative justice and change. Policy needs to change. Laws and rules need to change, and I want to be a part of that. With your help, you gave me that chance to keep pushing towards my long-term goal."
The Scholarship Review Team was unanimous in selecting Williams as the award's first recipient. Williams' strong commitment to social justice issues was clearly demonstrated by her long involvement with victims of domestic abuse.
Williams transferred to Metropolitan State from Minnesota State University, Mankato, and immediately appreciated the flexibility and diversity. "I love how I see more professors who are of color. That just made me so happy," Williams says, explaining how she encountered her first class taught by an African American professor at Metropolitan State.
Williams is graduating Dec. 12 with a Bachelor of Science in Criminal Justice from Metropolitan State's College of Law Enforcement and Criminal Justice. She intends to pursue a master's program in international relations, and then work internationally as an advocate for resources and better opportunities for women of color.
Metropolitan State University is committed to the principle of and practice of anti-racism. We must stand strong, speak out, and act against all acts of racism, violence, hate, and discrimination. We are committed to the principle that all people are to be treated with equity and included as full members of our community in which we celebrate countless dimensions of diversity such as race, color, national or ethnic origin, religion, gender, sexual orientation, disability, age, economic, and/or marital status.
Metropolitan State University, a member of Minnesota State, is the Twin Cities' public, urban, comprehensive state university providing lifelong learning and competitive academic and professional degree programs at the bachelor, master and doctoral levels.