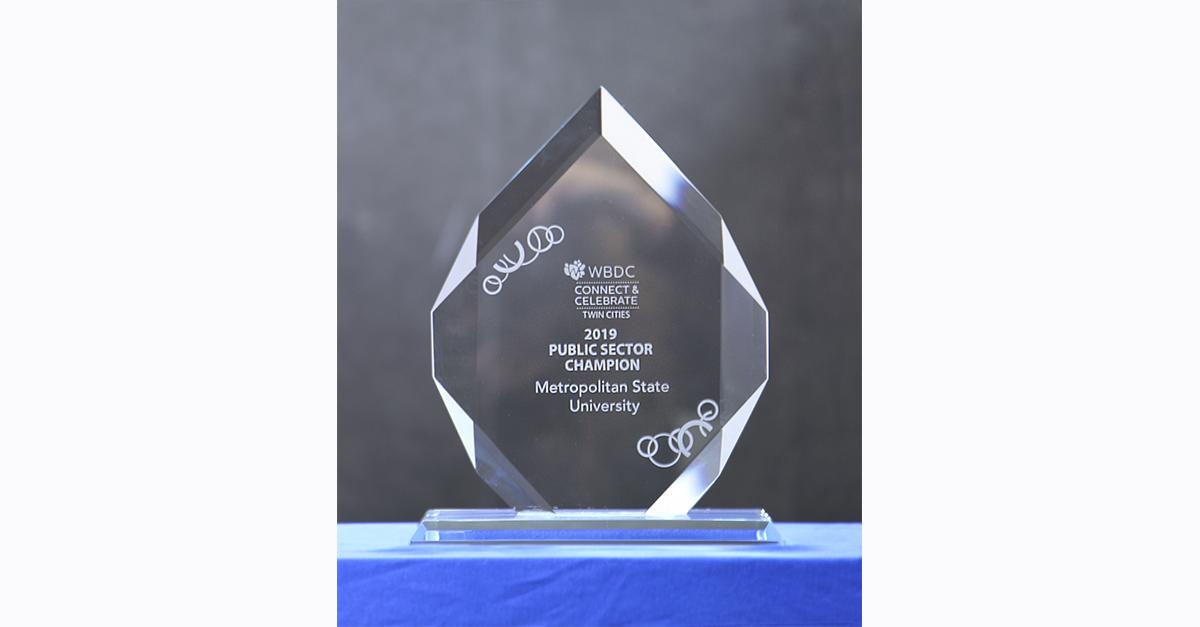 Metropolitan State University is the recipient of the 2019 Public Sector Champion Award, given by the Women's Business Development Center (WBDC) to a public sector partner whose unwavering support of the WBDC enables its mission to develop and support women leaders and entrepreneurs..
University President Ginny Arthur and Dr. Denise Williams of the College of Management received the award at a reception event March 7 in Minneapolis. Other awards presented included the Corporate Champion Award,WBE Gold Star Award, and WBE Rising Star Award. 
Williams supported the mission of @wbdcwith efforts that included launching the Build Your Dream event for women veterans in 2015; serving on the Regional Advisory Board Committee; attending numerous conferences on women entrepreneurial leadership, as well as the first regional meeting of the committees serving national WBDC initiatives; engaging the new national WBDC director of veteran affairs office into the Twin Cities market; supported local office of MN WBDC  promotion of the certification process for women business owners in Twin Cities; worked with WomenVenture CEO to develop a survey for WBDC members to identify retention and turnover issues; built alliances and collaboration with women entrepreneurship support organizations in the Twin; and supporting on-going collaborative and awareness efforts between WBDC, WomenVenture, NAWBO, MEDA, MN SBA.