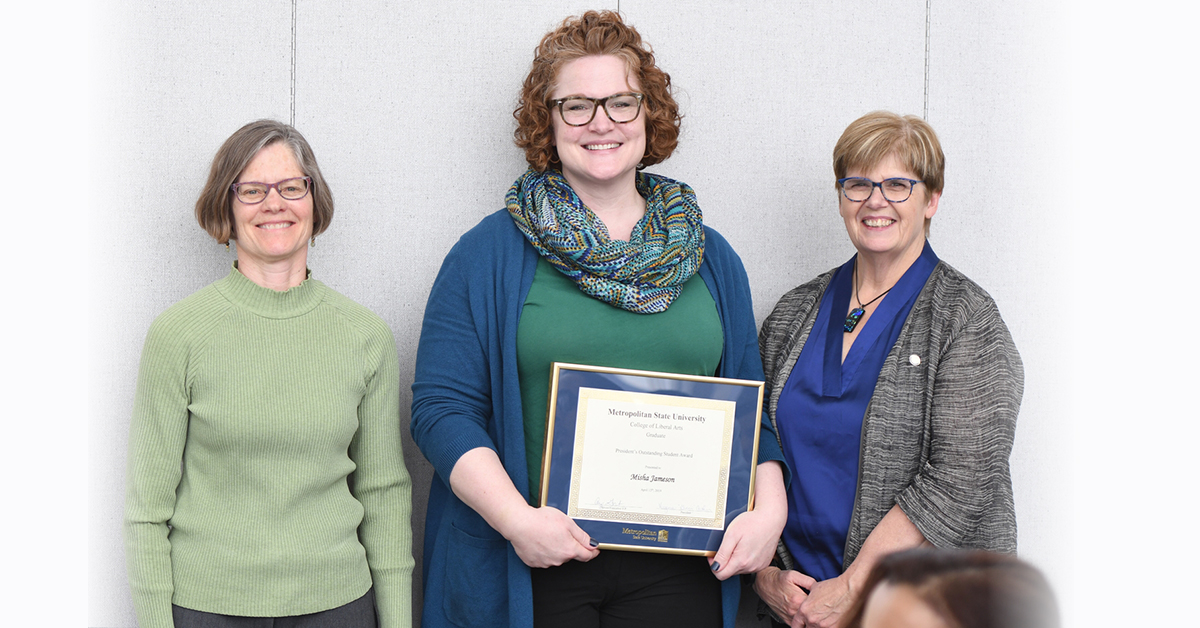 Misha Jameson of Saint Paul has been selected a spring semester Outstanding Graduate Student at Metropolitan State University. 
Jameson graduates with a master of science in technical communication and is selected as the President's Outstanding Graduate Student award recipient for the university's College of Liberal Arts. She is one of 1,079 students graduating in the spring semester. Metropolitan State's 104th commencement exercises take place April 27, 2019, at the Minneapolis Convention Center to confer bachelor's, master's and doctoral degrees.  Jameson will also deliver an address at the morning exercise recognizing graduates from the College of Liberal Arts, College of Management, College of Sciences, and the School Urban Education.
Watch Misha deliver her commencement address here: https://youtu.be/iAQvYT7IE74
Jameson believed the tremendous support of her many professors helped her with overcoming her challenges. "They taught me more than how to write or problem solve. They helped me to think and broadened my mind, to connect disparate ideas and situations," she says. Jameson appreciated the challenges of "learning the art of compromise and group work. It is an absolutely crucial soft skill for the modern workplace that I picked up in the master's program and use every day."  
Jameson's academic advisor, Victoria Sadler said, "The faculty who worked together to nominate Misha agree that she deserves this recognition not only because she is intelligent, well-prepared for classes, and an excellent communicator, but also because she 'pays it forward.' That is, she places tremendous value on her education and volunteers her time to advocate for Metropolitan State, and she mentors others as they consider earning college degrees and as they look for opportunities to grow as professional communicators. Misha is the type of student from whom her professors learn, and she enhances our program!" 
Jameson is employed at Ecolab and when not working, spends her time with family, gardening, and traveling. She loves photography and plans to pick up her camera again to spend time on her photography skills, and take pictures of the beautiful landscapes and architecture in Saint Paul. Additionally, Jameson is considering the Design of User Experience graduate certificate at Metropolitan State, and says that it "would be a terrific addition for my career path."
Each fall and spring semester, colleges at Metropolitan State nominate students for the Outstanding Student and Outstanding Graduate Student awards. Nominees are evaluated on the basis of their academic performance in their degree program, as well as achievements in their community and professional contributions. All finalists are recognized in the commencement program, outstanding students receive special recognition during commencement, and are eligible to speak at commencement.
Metropolitan State University, a member of Minnesota State, is the Twin Cities' public, urban, comprehensive state university providing lifelong learning and competitive academic and professional degree programs at the bachelor, master and doctoral levels.