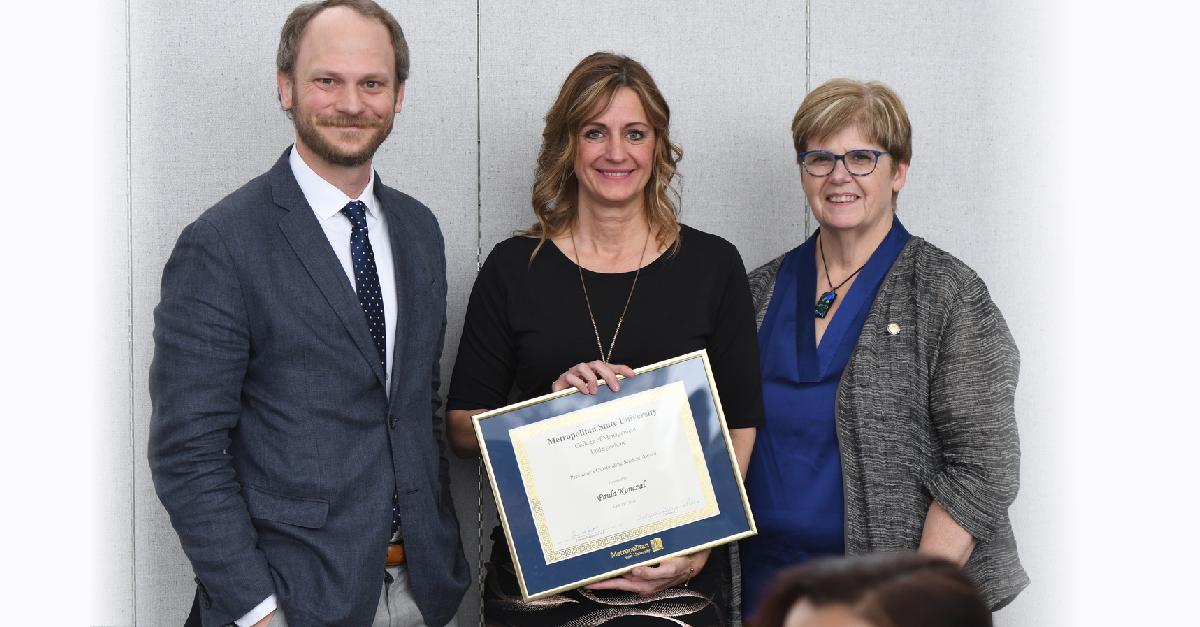 Paula Konczal of Elk River has been selected a spring semester Outstanding Undergraduate Student at Metropolitan State University.
Konczal graduates summa cum laude with a bachelor's degree in business administration and was selected as the President's Outstanding Undergraduate Student award recipient for the university's College of Management. She is one of 1,079 students graduating in the spring semester. Metropolitan State's 104th commencement exercises take place April 27, 2019, at the Minneapolis Convention Center to confer bachelor's, master's and doctoral degrees.
"I loved the flexibility that Metropolitan State gave me. I loved how learning online helped me learn how to work virtually with employees that worked from home or overseas," Konczal said. "The message boards, chat rooms, work groups, and other online forums expanded my ability to work and guide a virtual team. Metropolitan State's online degree program strengthened my self-discipline, time management skills and responsibility, while sharpening my organizational skills."
Konczal currently works as a financial controller for an architectural metal fabricator in Rogers, Minnesota. While she has no plans to change her career, she no longer feels limited to one job. "I feel like… I have the ability to look and apply at different organizations that could benefit from my extensive experience, and now college education, if I so desire," she said.
Born in Crystal, Minnesota, Konczal lives in Elk River with her daughter and two grandchildren. She has many hobbies, including running, scuba diving, boating, reading, and enjoys time with her adult children and grandchildren. 
Active in community service, Konczal volunteers at her church, Central Lutheran, and each week leads a student ministry program. In the summer, she participates in a small church group that performs community service for those in need, and once laid concrete flooring and counters while helping to build a kitchen and daycare space in Costa Rica.
"Paula is a dedicated student who was thoughtful and diligent in her planning and a pleasure to work with," said Princess Kent, Konczal's advisor. "I couldn't be happier for her. I wish her the best in all her endeavors."
Each fall and spring semester, colleges at Metropolitan State nominate students for the Outstanding Student and Outstanding Graduate Student awards. Nominees are evaluated on the basis of their academic performance in their degree program, as well as achievements in their community and professional contributions. All finalists are recognized in the commencement program, outstanding students receive special recognition during commencement, and are eligible to speak at commencement.
Metropolitan State University, a member of Minnesota State, is the Twin Cities' public, urban, comprehensive state university providing lifelong learning and competitive academic and professional degree programs at the bachelor, master and doctoral levels.