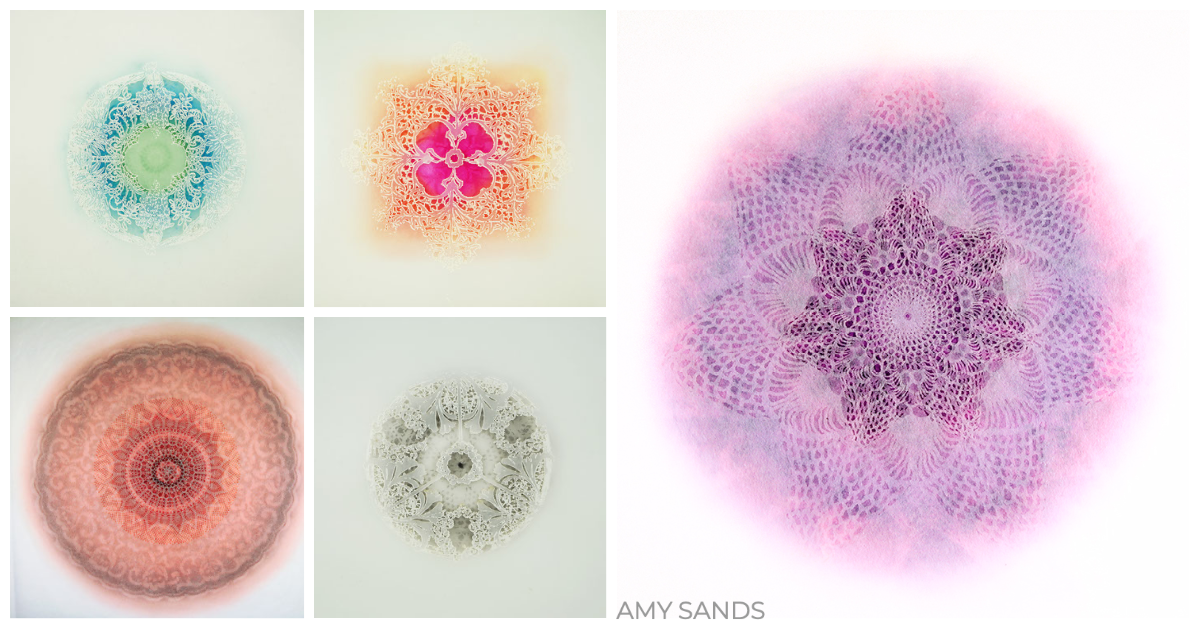 Artwork by Metropolitan State University's Prof. Amy Sands is again showing internationally, this time at the Bangkok Biennial 2020 in Thailand.
Sands' works are showing in the curated virtual studio, Cloud 9 Pavilion, themed as a utopic vision for the future and a critical eye to the present. Artists and writers wield their critical vision, imagination, and curiosity to strive for something unimaginable and to shed new light on past, present, and future realities related to love, politics, and society.
With an array of 33 artists from across the globe working in a wide range of multimedia, photography, painting, sculpture, spoken word, dance, drawing, installation and blogging, the submitted works can be viewed Oct. 31 to Nov. 21 at the exhibit website, https://cloud9pavilion.weebly.com/virtual-studios.html
Amy Sands is an assistant professor of Studio Arts at Metropolitan State and a Minneapolis based artist focusing on one-of-a-kind works on paper that integrate traditional and digital methods of printmaking. She started at Metropolitan State in 2009 as community faculty and became resident faculty in 2017. Sands teaches in the areas of drawing, printmaking and digital arts.
"I have been exploring the concept of women's work in my art. Imagery sourced from lace and craft doilies emerge from my paper abstractions, giving homage to the history of women's work and raising the question of what is valued in our culture," Sands explains. "Patriarchal systems have inhibited female artists from being recognized for their work throughout history. "Craft" is often illegitimately considered low-brow when compared to "fine art," and I aim to conflate these notions by bringing the patterns of craft into prints. 
Currently, Sands is working on a new series utilizing the textile collection of the American Swedish Institute in Minneapolis where she will have a solo exhibition of bobbin lace inspired works from April 10-July 11, 2021. She has also exhibited in solo and group shows across the world including: Prints Tokyo 2012, Tokyo Metropolitan Art Museum; the International Printmaking Biennial of Douro, Portugal; and the 2016 Delta National Small Prints exhibition at the Bradbury Museum in Jonesboro, Arkansas. Her work has been internationally recognized with numerous awards — mostly recently first prize ~ Mini Print III International Cantabria/Impact 10 in Santander, Spain — Juror's Choice Award ~ Awagami International Miniature Print Exhibition 2017, Tokushima, Japan; First Place ~ Home exhibition at the Rourke Art Museum, Moorhead, Minn.
The Studio Arts program at Metropolitan State University gives students the opportunity to cultivate their creativity while developing marketable skills. A core curriculum in drawing, painting, and digitally-based arts is supplemented by other media and techniques, community-based internships, and coursework in related disciplines.
Under the guidance of accomplished arts faculty with national and international exhibition histories, students will prepare for graduate school and/or careers in the visual arts. Learn more about the Studio Arts program at Metropolitan State here: https://www.metrostate.edu/academics/programs/studio-arts-ba