Academic Advising in the College of Nursing & Health Sciences
All programs in the College of Nursing and Health Sciences (CNHS) are supported by the expertise of faculty and professional advisors who help students plan their degree and navigate institutional processes. Upon acceptance to the college, students are assigned an advisor. Students are strongly encouraged to work with advisors to understand degree requirements and develop plans to achieve their educational and vocational goals.
Please refer to the Advising Syllabus for more information about our advising process.
How to contact an academic advisor
For students admitted to a CNHS program, contact information for your academic advisor is listed in two places, on your My.Metro Student Dashboard (my.metrostate.edu) and on your degree audit report (DARS).  Email CNHS.Advising@metrostate.edu if you do not have access to your academic advisor's contact information.  Reach out to your advisor as needed.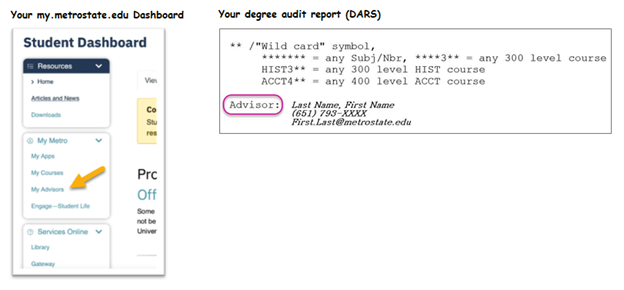 The CNHS Advising Team
Sandi Gerick, Advising Director 
sandi.gerick@metrostate.edu 
651-793-1379 
Areas of expertise: Entry-Level MS Nursing, RN to BSN, and Pre-Bachelor's Nursing
Wachen Anderson, Academic Advisor 
wachen.anderson@metrostate.edu 
651-793-1426 
Areas of expertise  Bachelor of Nursing and Pre-Bachelor's Nursing
Lynn Iverson-Eyestone, Academic Advisor 
lynn.iverson-eyestone@metrostate.edu 
651-793-1798 
Areas of expertise: RN to BSN and Pre-Bachelor's Nursing
Nina Exley, Academic Advisor 
nina.exley@metrostate.edu 
651-793-1356 
Areas of expertise: Doctor Nursing Practice (DNP), Pre-Bachelor's Nursing, and Health Systems Studies
Sheila Anderson, Academic Advisor 
sheila.anderson@metrostate.edu 
651-793-1373 
Areas of expertise: MS Advanced Dental Therapy, Dental Hygiene, Pre-Bachelor's Nursing, and Health Systems Studies