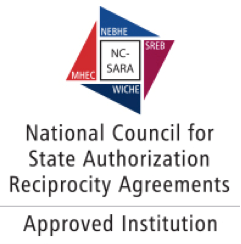 Metropolitan State University must comply with a state's regulations before any educational activity can occur within that state. Those regulations determine whether Metropolitan State can offer students a place in an online course or program. To meet each state's regulations and requirements, Metropolitan State participates in the National Council of State Authorization Reciprocity Agreement (NC-SARA).
Metropolitan State became a SARA institution in March 2015. In short, this allows students from NC-SARA approved states to enroll in online degree programs. Currently, only one state (California) is not covered by the agreement.
Students who are currently accessing or plan to access Metropolitan State online courses from other states should understand the following critical information:
Metropolitan State is only authorized to offer online courses to students who reside in states covered by the State Authorization Reciprocity Agreement. States that participate in SARA are highlighted in blue on the NC-SARA map.
The university's participation in SARA does not mean that online programs that lead to professional licensure will meet the requirements of each and every state. It is the student's responsibility to check with their home state's licensing office to determine if the university's programs will comply with the licensing requirements of that state.
Metropolitan State students who wish to resolve grievances are encouraged to follow the Metropolitan State complaint process. Minnesota students who are unable to resolve a complaint in this manner should file their complaint with the Minnesota Office of Higher Education.
Additionally, any student attending under SARA provisions has the right to file a complaint with the Minnesota Office of Higher Education. Steps on how to file a complaint with this office are found at Minnesota Office of Higher Education.