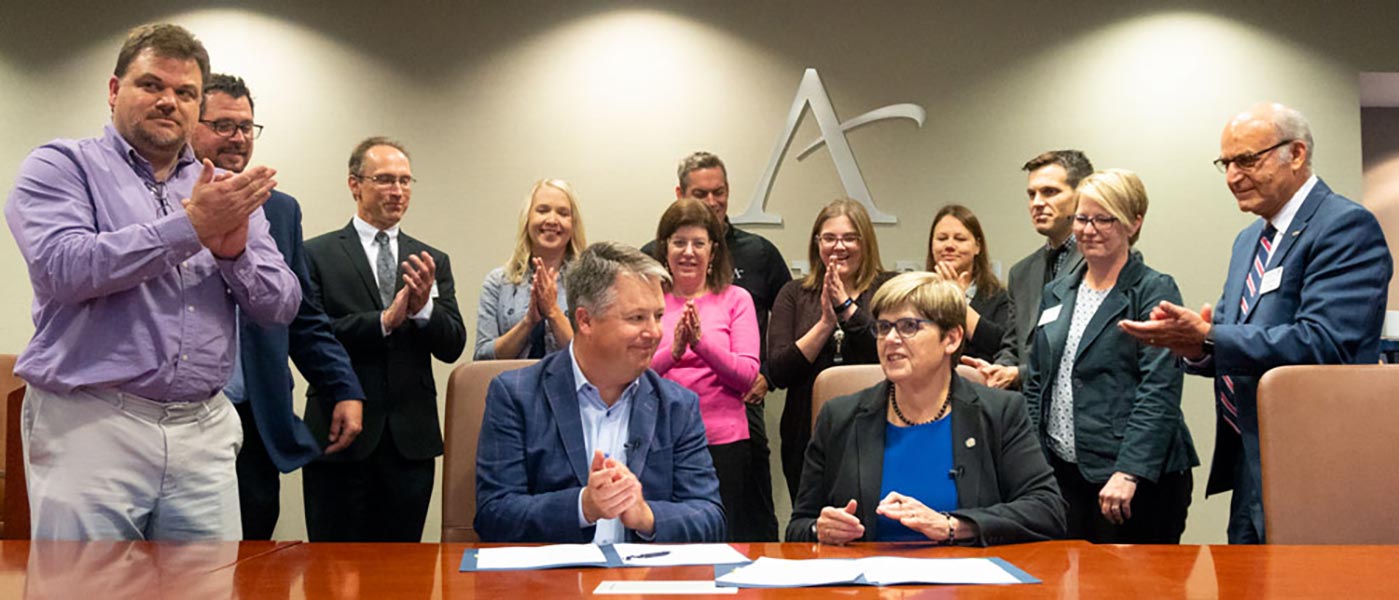 Metropolitan State University is committed to eliminating barriers to higher education, especially for those working adults looking to build on their professional and life experience. To that end, Metropolitan State has developed the Corporate Connect program, an innovative partnership program designed to:
Enable working adults to access our accredited programs at their place of work,
Assist companies and organizations in providing career development and advancement opportunities to their employees, and
Develop important ties between community stakeholders to meet both workforce demands and community empowerment needs.
To learn about this exciting program, here are some perspectives from Metropolitan State's partnership with Affinity Plus Credit Union, in the words of Affinity Plus employees and Metropolitan State faculty.
When we decided to pursue further educational and development opportunities for our employees, we didn't know our partner would be right in the backyard of our Saint Paul location. We reached out to Metropolitan State University and from the first conversation , they were open, asked great questions, sought out experts from throughout their organization, and worked with us to develop something that I believe has resulted in a very meaningful outcome. They demonstrated a tremendous amount of adaptability throughout the development process, recognizing that we had to change as we learned more about what our employees wanted and how the university could support us. The caliber of instructors thus far has exceeded our expectations—they are talented, working professionals that are committed to the learner, which is critical to the success of the program.
— Julie Cosgrove, senior vice president of Human Resources at Affinity Plus Credit Union
Metro State made the application process for this MBA cohort effortless. They were there every step of the way to answer my questions and guide me in the right direction. Metro State genuinely cares about each individual and goes above and beyond to ensure student success.
— Kaitlyn Fashingbauer, MBA candidate, Affinity Plus employee
We are thrilled to be partnering with Affinity Plus Federal Credit Union to provide Affinity Plus employees with the opportunity to earn MBAs in their workplace at no out-of-pocket cost. Affinity Plus has a long history of dedication to their members and the greater community and this program shows that their corporate responsibility extends to their employees as well. I look forward to the success of this first cohort and to the opportunity to extend this model to other organizations in the Twin Cities.
— Dr. Allen Bellas, MBA program chair, Metropolitan State University faculty
Learn about Corporate Connect
To learn more about developing a meaningful partnership with Metropolitan State University for the benefit of your employees and your organization, get in touch!
Email us or call 651-793-1302