Student exit survey report
The following table represents overall student satisfaction based on exit survey on different criteria from fall of 2020 to spring of 2022. Based on the numbers, we can safely conclude that students are overall satisfied with frequency of course offerings, course schedule, modality of the course offerings, quality of teaching, degree expectations, relevance of the curriculum to their academic and professional goals, and the academic advising that is being offered to them. The data has been reasonably consistent over the four data points as is reflected from the mean of > 3 across all criteria since fall of 2020. We will follow up with regular students' course feedback to improve our instruction in all areas.
Student exit survey responses
| | Fall 2020 | Spring 2021 | Fall 2021 | Spring 2022 |
| --- | --- | --- | --- | --- |
| Criteria | N=76 | N=50 | N=66 | N=76 |
| Frequency of course offerings facilitated timely completion of my degree. | 3.87 | 3.84 | 4.14 | 3.95 |
| The scheduling of courses facilitated timely completion of my degree. | 3.91 | 3.88 | 4.12 | 4.01 |
| Modality of course offerings (face to face, online, hybrid, etc.) facilitated timely completion of my degree. | 4.14 | 3.9 | 4.06 | 4.11 |
| My College of Management courses were well taught. | 3.82 | 3.8 | 3.86 | 4.08 |
| My degree requirements were clearly explained. | 4.07 | 3.74 | 4.15 | 4.08 |
| The curriculum was intellectually stimulating. | 3.95 | 3.74 | 4 | 4 |
| The curriculum was relevant to my academic goals. | 3.99 | 3.84 | 4.17 | 4 |
| The curriculum was relevant to my professional goals. | 4.04 | 3.84 | 4.02 | 4.07 |
| I was academically prepared to complete the graduation requirements. | 4.03 | 3.86 | 4.17 | 4.21 |
| I often sought academic advising before registering for classes. | 3.3 | 3.78 | 3.44 | 3.26 |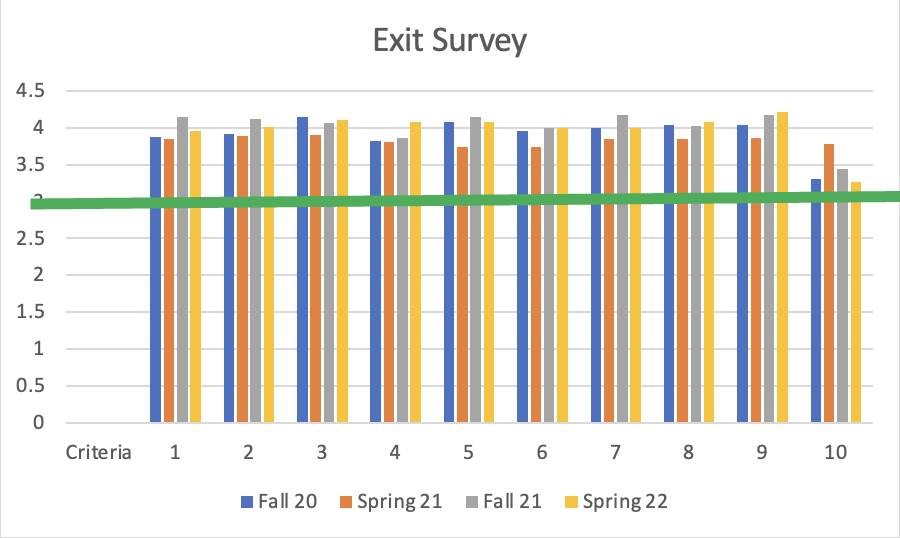 Additionally, students' subjective comments have been pretty encouraging as collected via the exit survey. We have presented some salient comments that we have collected over the years to show overall student satisfaction.
Comments on the scheduling and modality of the courses
Classes are available at multiple locations and you can obtain them as per your comfort. For part time students like me to pick up classes on your ease based on your work schedules and locations.
There were courses that were specifically designed for students that had full-time jobs and had to work during the day. Whether it was night-time classes, hybrid or online.
I liked the ability to choose a hybrid, in person, or online class that best fits my schedule. The electives that I was able to choose to fit in certain requirements were also classes that I really liked and made finishing school that much easier.
For me it was the flexibility in the way you can take classes. Without that I would not be able to handle work and school.
I liked how many online classes were available for those of us who aren't able to be on campus. The professors are also very friendly and knowledgeable and want you to succeed in class.
I enjoyed the freedom of online classes. I feel these classes helped me manage my time well and get used to the work environment I will be going into, as many corporate jobs can now be done from home.
Comments on the curriculum and quality of instruction
Well educated professors, with a large knowledge of the courses they were teaching.
The class atmosphere was encouraging to learn new things. There were some awesome professors that cared and wanted to see you succeed.
I liked everything. I never had any single negative experience with a professor, grading issues, lectures, etc. They truly have the best staff.
The best part of my academic experience was how friendly and understanding the teachers were in all of my core curriculum classes. Each teacher was willing to take that extra step or go the extra mile to ensure each student fully understood their teachings.
Some of the instructors were mindful of different students learning processes. They've been respectful of the student's life outside of school. They are always encouraging us to reach out to them if we have questions or concerns.
Most of my professors were very open to assisting me with career-related questions. They even went above and beyond by providing me insight on interviews and advice on how to effectively do well. It has landed me 2 different full-time Accounting related jobs during my academic career.
I love the real life experience the professors had. Many worked another job that was business related or related to the class.
Comments on academic advising
The best experience I had at Metropolitan State University is getting help from the staff. They did a wonderful job of helping me transfer my credits and what I need to do next to graduate.
I really enjoyed working with my advisor to create a plan that was best suited for me. I also enjoyed working with a handful of the Metro state faculty.
I am very happy that I had such a helpful academic advisor. She really guided me and always made time to speak with be directly and answer my email questions. She really made me feel that I was going down the right path toward graduation.
My advisor Sally Pinkston was very helpful and helped me through my entire time at Metro.
Comments on diversity
Metropolitan University offer the opportunity to collaborate with many people of different backgrounds, giving students the chance to practice teamwork skills in the real-world environment. It also focused on serving me as a returning student--a huge help while I was juggling school, work, and parenting.
Thank you for all you have done to ensure the students always came first. Especially during the pandemic, I am truly proud to be a student at Metro State.
it's too diverse and it has a lot of programs more benefits for students.
Opportunities for improvement
Only night classes for most of the accounting classes. Starting here I worked nights so it was hard to figure out a schedule.
My least favorite part of my academic experience would be not being able to be in face-to-face classes due to the global pandemic. This made it hard to have any social interactions with teachers and students in class since everything has been online for me in 2020.
Certain classes were only offered certain times during the year, required careful planning.
The difficulty of group projects in a virtual setting. Interacting with other students, on-line or in campus classes.
Some of the professors were not easy to connect.
The only thing I can think of was the location of most of my classes. I was initially excited about classes in the downtown location, since that was a mile from my home and I didn't have a car when I first started. But I only had a couple classes at that location and the rest of them were at the two Saint Paul locations.