Fall 2022 Lunch and Learn
Re-thinking I-94 between Saint Paul and Minneapolis
presented by the College of Management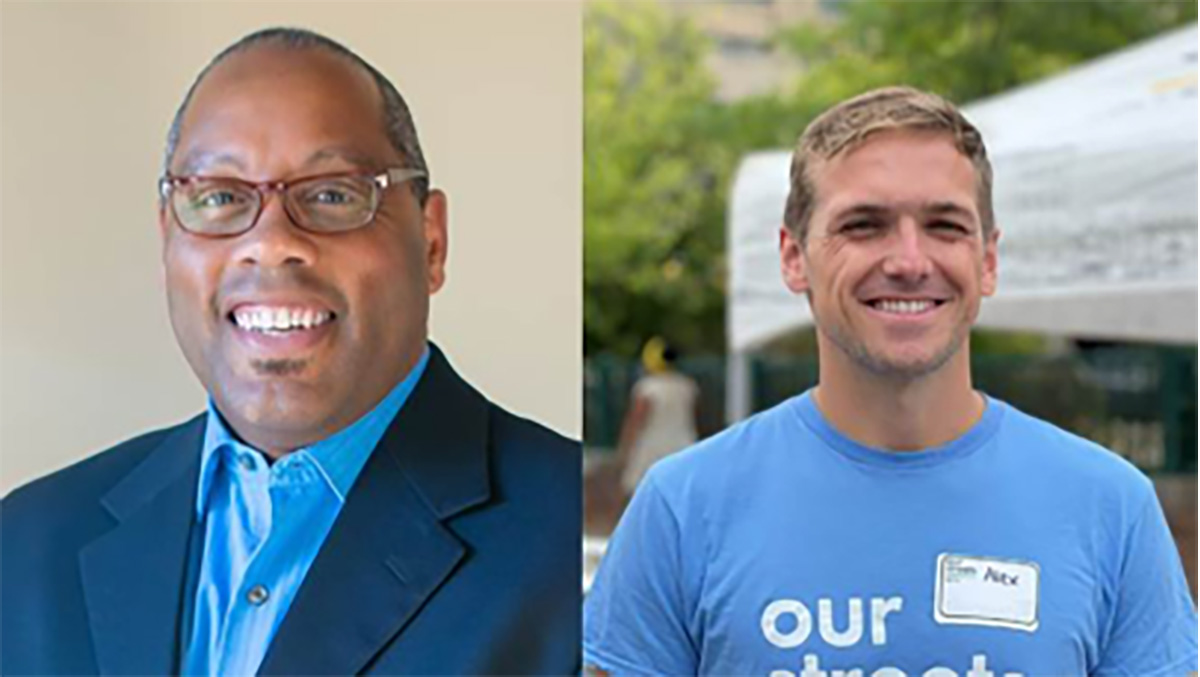 Construction of I-94 divided and displaced thousands of residents in Minneapolis and Saint Paul, including many in the Rondo neighborhood, which was the largest African American community in the Twin Cities. As with so many urban interstates, its construction symbolizes institutional racism and its health and community impacts are undeniable.
More than 50 years later, MnDOT's Rethinking I-94 project will shape the future of the tens of thousands of people who live along the 7.5 miles of I-94 between downtown Minneapolis and Saint Paul. The project's environmental assessment process presents an opportunity to rethink the freeway's purpose and use. Some cities have retired urban highways, while other have innovated new and different ways that freeways could be repurposed.
Please join Keith Baker from Reconnect Rondo and Alex Burns from Our Streets Minneapolis for a discussion about the history of the Twin Cities' stretch of I-94 and to explore what is being proposed as solutions to address harms caused by the construction of I-94, to communities along the corridor.
12–1 p.m., Wednesday, September 14
https://minnstate.zoom.us/j/98802339937
Keith Baker is the executive director for ReConnect Rondo, Inc., an umbrella advocacy organization committed to addressing racial disparities in Minnesota. Keith is leading the organization's mission to revitalize the Rondo Community with a land bridge that reconnects Rondo and creates Minnesota's first African American cultural enterprise district. Keith has more than 35 years of experience in the public, private and nonprofit sectors. His 18 years with the Minnesota Department of Transportation included oversight of federal and state professional technical contract administration and construction compliance monitoring.
Alex Burns is an experienced environmental justice organizer and activist. He works as the Transportation Policy Coordinator at Our Streets Minneapolis, which is leading the Twin Cities Boulevard campaign, a community-centered movement to fully repair the highway's harms via a highway-to-boulevard conversion in the 7.5 mile corridor that is being evaluated in MnDOT's Rethinking I-94 project. Previously he has worked as a national park ranger, on local and state political campaigns, and as an outreach specialist at a sustainable transportation nonprofit.
Dr. Samuel Leguizamon Grant has been on Metro State's faculty since 1990, and an environmental, economic and racial justice organizer, and action researcher since 1983. He is executive director of Rainbow Research—a national social justice research, evaluation and capacity building non-profit. He has organized and innovated in the racial and economic justice space for more than three decades, with experiences including organizing a credit union, establishing an urban eco-industrial park, organizing food justice and food sovereignty initiatives, coordinating and teaching in a career pathways strategy in the community development field, and working with community efforts all over the country to increase racial and economic justice.
ReConnect Rondo is a 501(c)(3) nonprofit organization dedicated to restoring equity and opportunity in Rondo by leading a united effort in pursuit of one common goal—an African American cultural enterprise districted connected by a community land bridge. ReConnect Rondo is leading a restorative movement in Minnesota. Our mission is to lead the effort to revitalize the Rondo community with a land bridge that reconnects Rondo and reignites a vibrant African American cultural enterprise district in Saint Paul. We will do this by connecting Minnesota leaders, equity organizations and the Rondo community to ensure a better, brighter and more equitable future.
Our Streets Minneapolis works to transform transportation systems in our city to put people first. We do this by making biking, walking, rolling and public transit easy and comfortable for everyone. We envision a community where transportation decisions put people first. Where streets and neighborhoods are vibrant spaces for people to live, work, and play. Where streets are not just built for cars, but are designed to prioritize climate, racial justice and the health and wealth of our communities.
Lunch and Learn is part of an ongoing monthly series of presentations and discussions hosted by the College of Management. This conversation is open to all educators, administrators, instructional designers, and students of Minnesota State Education System.
Meet new faculty, gather with long-time friends from across Minnesota State, and bring questions and ideas (along with your lunch) to these monthly gatherings that will include conversation starters and an opportunity for both large and small group conversations. For information, contact organizers Dr. Mehmet Koseoglu, Dr. Erica Berte, or Dr. Allen Bellas.