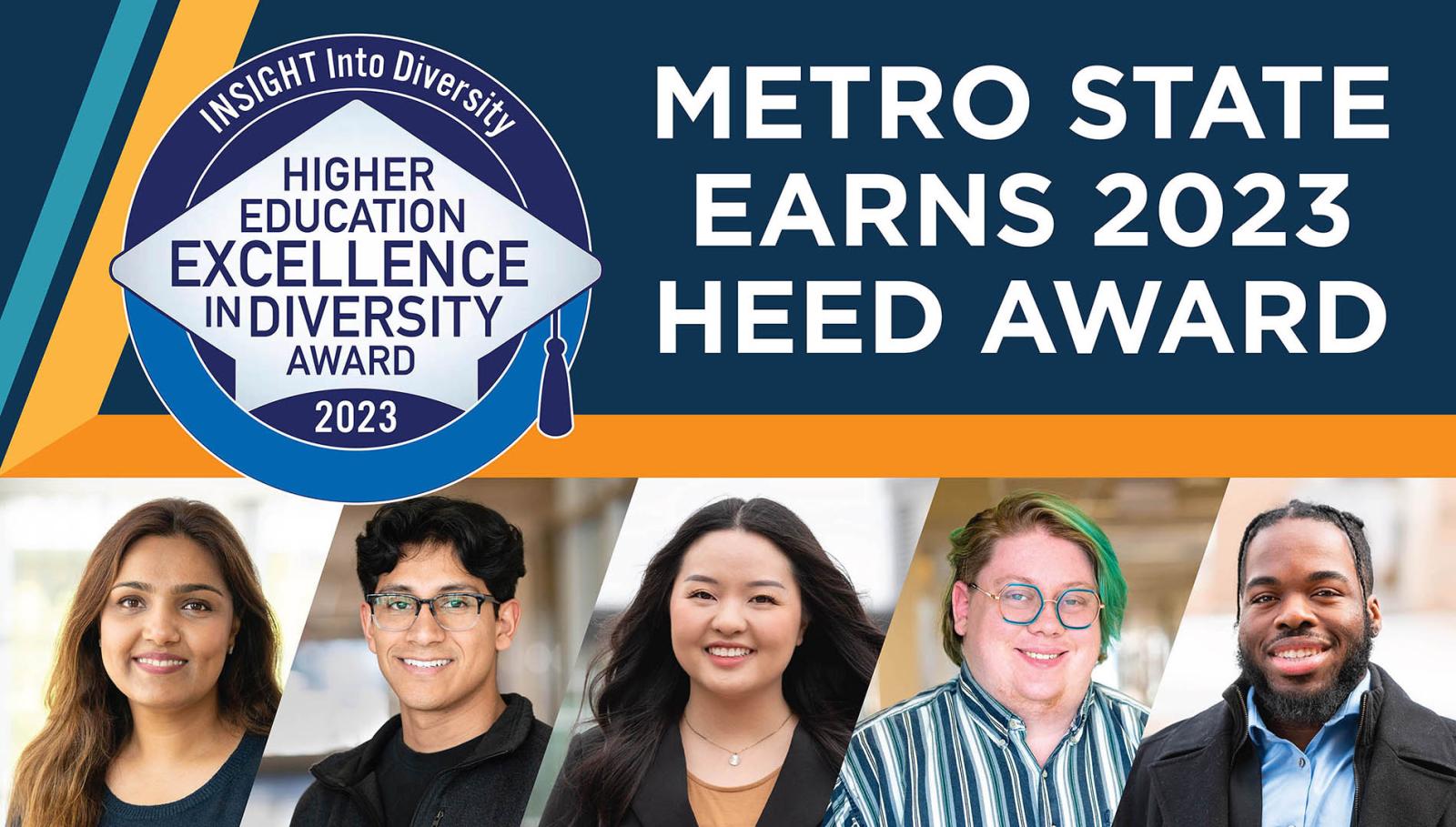 Saint Paul, Minnesota, October 11, 2023—Today, Metro State University received the 2023 Higher Education Excellence in Diversity (HEED) Award from INSIGHT Into Diversity magazine, the oldest and largest diversity-focused publication in higher education. As a recipient of the annual HEED Award—a national honor recognizing U.S. colleges and universities that demonstrate an outstanding commitment to diversity and inclusion—Metro State will be featured, along with 108 other recipients, in the November/December 2023 issue of INSIGHT into Diversity magazine. This is the fifth year Metro State has been named as a HEED recipient. 
"Being recognized as one of the 2023 HEED Recipients is a great honor," says Metro State Vice President of Equity and Inclusion Josefina Landrieu. "More importantly, this award represents our steadfast commitment to making progress in our equity, inclusion, and anti-racism efforts throughout the university. We thank our colleagues and partners throughout Metro State that continue to engage in the work with us. We are proud of what we have accomplished and yet, we recognize that the work must continue. A lot remains to be done so students, staff, and faculty can work and learn in environments that are culturally affirming, welcoming, and inclusive.
INSIGHT into Diversity magazine selected Metro State University for its continued steadfast efforts to create a welcoming work and learning environment that reflects the communities it serves. The university's efforts to expand student support programs, Employee Resource Groups, and the Equity Champions search committee program continue to bear fruit in providing institutional strength to our stated equity and inclusion goals. In addition, the creation and implementation of the university-wide, comprehensive, strategic plan for equity, inclusion, and anti-racism through the Equity, Inclusion and Anti-racism Council has increased the visibility and profile of the university's work both internally and externally. 
The development and training of our Bias Advisory Team equips the university with needed skills to support the respectful and inclusive campus climate we wish to maintain.  Our policy and procedure work on physical and digital accessibility is far ahead of other organizations. Further, we continue to invest resources to assure our mission and vision of an equitable, inclusive and anti-racist university can be realized.  From the addition of accessibility specialists in the Library and IET, to the expansion of the Equity and Inclusion team to include a full-time investigation specialist position dedicated to issues of discrimination, sexual violence, and harassment, and a Program Director position with a strong focus on the search, hiring, and retention of a diverse workforce, our budget choices further embed the university's equity and inclusion goals into the operational life of Metro State.
"The HEED Award process consists of a comprehensive and rigorous application that includes questions relating to the recruitment and retention of students and employees — and best practices for both — leadership support for diversity, campus culture and climate, supplier diversity, and many other aspects of campus diversity and inclusion," said Lenore Pearlstein, publisher of INSIGHT Into Diversity magazine. "We take a detailed approach to reviewing each application in deciding who will be named a HEED Award recipient. Our standards are high, and we look for institutions where diversity and inclusion are woven into the work being done every day across their campus."
For more information about the 2023 HEED Award, visit insightintodiversity.com. 
# # #
About Metro State University
Metro State University, a member of Minnesota State, is the Twin Cities public, urban, comprehensive state university providing lifelong learning, and competitive academic and professional degree programs at the bachelor, master, and doctoral levels. 
About INSIGHT Into Diversity
INSIGHT Into Diversity magazine is the leader in advancing best practices in DEI (diversity, equity, and inclusion) in higher education. Through thought-provoking print and online articles, we share expert advice, valuable resources, in-depth profiles of top DEI programs at colleges and universities, headline news, and much more to help keep our readers informed and empower them to advance DEI initiatives at their institutions.  To further our mission, we created the INSIGHT Into Diversity Higher Education Excellence in Diversity (HEED) Award in 2012. The HEED Award — including the more targeted INSIGHT Into Diversity Health Professions, Law School, and Community College HEED Awards — is the only national honor to recognize institutions of higher education for their outstanding commitment to diversity, equity, and inclusion.  Current, archived, and digital issues of INSIGHT Into Diversity magazine are available online at insightintodiversity.com.