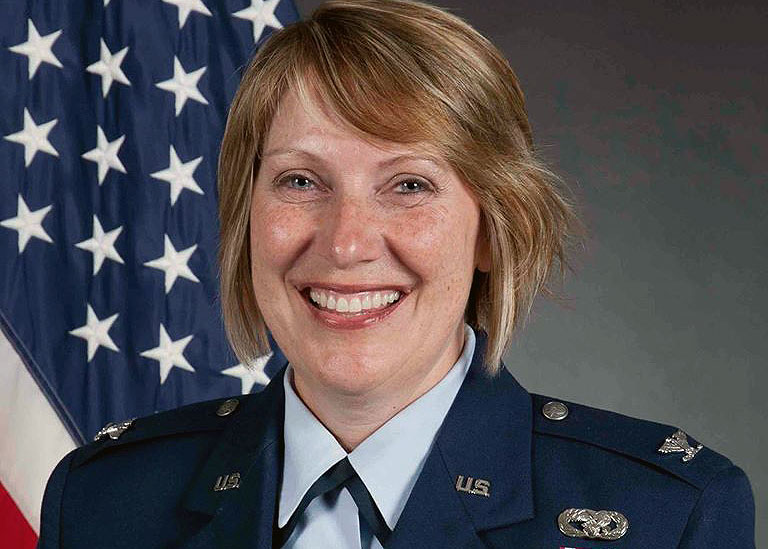 Metropolitan State University congratulates alumna Air Force Col. Sandra L. Best who will become the first female general in Minnesota National Guard history when she is promoted to brigadier general this week.
Best's promotion was officially announced by the Minnesota National Guard on Feb. 23. Her promotion will be conferred at a ceremony on Feb. 25 in Minneapolis. Brigadier general is a one-star general officer. In her new position, Brig. Gen. Best will serve as the chief of staff, Minnesota AirNational Guard, responsible for command supervision, oversight and leadership of the 133rd Airlift Wing and 148th Fighter Wing to include all items pertaining to manning, operations, readiness, training and equipping of units in the Minnesota Air National Guard.
"We are very proud to call Col. Best a member of the Metropolitan State University alumni community. She has been a wonderful partner in our community as an Alumni Board member and an example to current and future students," says Kristine Hansen, Metropolitan State alumni relations director.
Best graduated from Metropolitan State University in 1988 with a bachelor of arts emphasizing human resource management. Her post-graduate education includes a master of business administration from the University of St. Thomas, as well as advanced education in leadership, public affairs and military operations. She is a graduate of the Air Command and Staff College, and Air War College. She was a Policy Fellow at the University of Minnesota's Humphrey School of Public Affairs. In 2015, she attended the Harvard University, John F. Kennedy School of Government, Leadership in Homeland Security Program. Her career has included both public sector and military service, currently serving as the director of Strategic Relations and Mission Support Group commander with the Minnesota National Guard. She will continue to promote the benefits of lifelong learning and specifically the unique nontraditional environment geared for diverse working adults at Metropolitan State. Best and her husband of 27 years have four daughters and reside in rural Wisconsin. In her free time, she enjoys socializing with family and friends in the St. Croix River Valley.
Originally from Northeast Minneapolis, Best joined the 133rd Airlift Wing, Minnesota Air National Guard in 1984, as a personnel specialist and progressed through the enlisted ranks to technical sergeant. She was commissioned in 1991 through the Academy of Military Science at McGhee Tyson Air National Guard Base, Tennessee. Best has deployed in support of Operation Enduring Freedom in 2008.
"I congratulate Col. Sandra L. Best for her well-deserved promotion to the rank of brigadier general," Gov. Mark Dayton said in a statement released by the Minnesota National Guard. "Col.Best has proven her deep commitment to our state and country through her many years of dedicated service in the Minnesota National Guard. Her accomplishments as a leader in our Armed Forces should be celebrated by all Minnesotans."