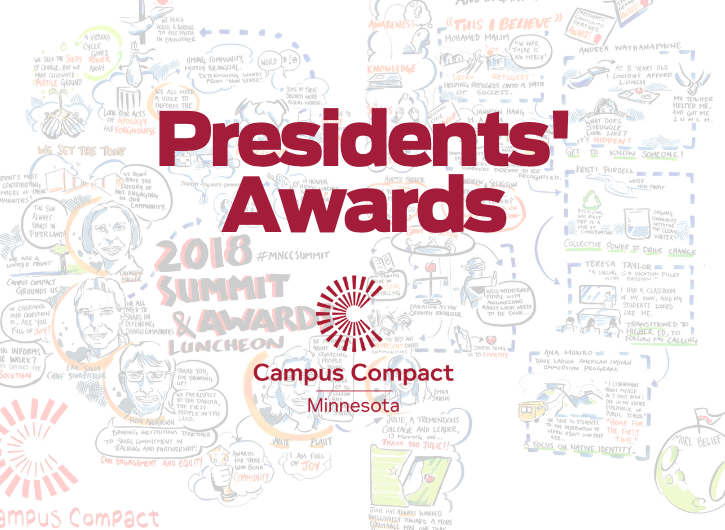 The Institute for Community Engagement and Scholarship, in partnership with the President's office, invites nominations for the 2019 Minnesota Campus Compact Presidents' Awards (mncampuscompact.org). The awards honor outstanding achievement in campus-community partnership and provide an opportunity for statewide recognition of exemplary community engagement.
Nominations are invited for each of three award categories: 
The President's Student Leadership Award recognizes an individual student or a student organization that models a commitment to civic responsibility and leadership, evidenced by initiative, innovative and collaborative approaches to addressing public issues, effective community building, and integration of civic engagement into the college experience.  
The President's Civic Engagement Steward Award recognizes an individual faculty or staff member or a group who has significantly advanced campus civic activity by forming strong partnerships, supporting civic engagement, and working to institutionalize a culture and practice of engagement. 
The President's Community Partner Award recognizes a community-based organization that has enhanced the quality of life in the community in measurable ways and has engaged in the development of sustained, reciprocal partnerships with the college or university, thus enriching educational as well as community outcomes. 

Submit a nomination using this link: https://goo.gl/forms/t5mDgks3Q5h4oQ8i1

Nominations will be reviewed by the Institute for Community Engagement and Scholarship and forwarded to President Arthur for final selection. Nominations for each award category must be received by 5 p.m., Friday, Feb. 1. Nominators will be notified by March 1 and awardees will be recognized at Minnesota Campus Compact's Statewide Summit and Presidents Award Luncheon (more information at this link) on April 10, 2019.  

For details or questions contact Katie Peacock, Associate Director of the Institute for Community Engagement and Scholarship, at 651-793-1291 or katie.peacock@metrostate.edu.