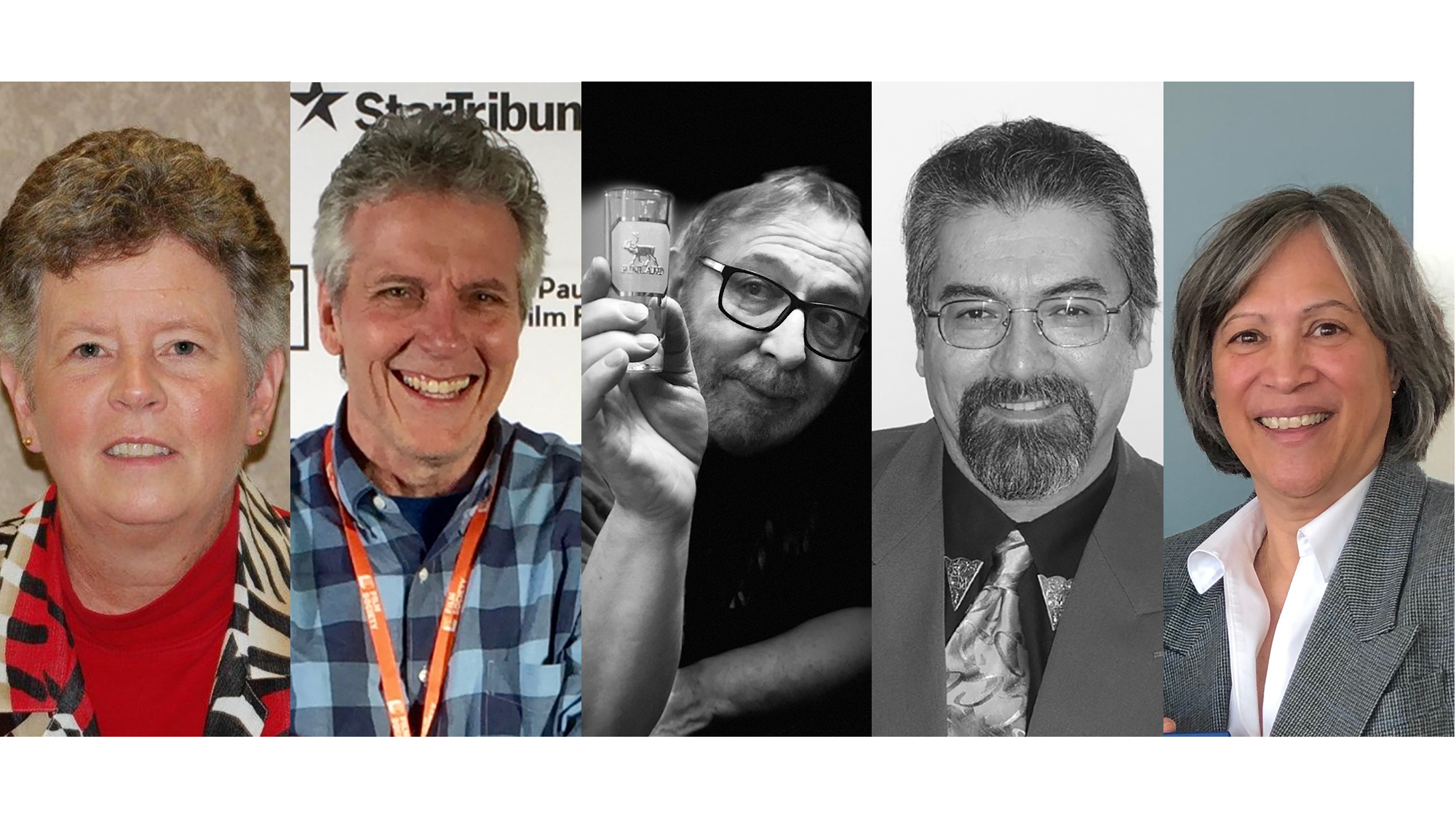 This spring marks the retirement of five of our colleagues at Metropolitan State University. Join President Ginny Arthur and the Metropolitan State community in thanking them for their years of service.
Honorees are: 
Patricia Borchert, associate professor, College of Management
James Byrne, professor, College of Liberal Arts
Michael Earhart, academic advisor, College of Liberal Arts
Santos Martinez, director emeritus
Maythee Kantar, professor emerita
Pat Borchert came to Metropolitan State in fall 2013, having come from the faculty at the University of Minnesota, Duluth. At Metropolitan State, Borchert taught at the undergraduate, graduate, and doctorate levels in the College of Management (COM).  She was also a department chair, co-champion of COM's Accreditation Council for Business Schools and Programs accreditation, and led the university task force and her college with respect to program-based assessment of  learning. 
Borchert received a bachelor of arts in mathematics from Carleton College, MS in management of  technology and a PhD in business administration at the University of Minnesota. Initially, Borchert taught mathematics in Forest Lake, and then entered the computer industry, first developing software and then managing software development at Control Data Corporation, and at two Internet-related companies. After receiving a PhD in strategy and entrepreneurship, she joined the faculty at University of Minnesota, Duluth, in 2005. Her research focuses on the formation and the efficacy of management teams in new ventures. Pat lives north of Saint Paul, on the St. Croix River. In her spare time, she loves to canoe, hike, travel, and spend time with her family.
James Byrne joined the Metropolitan State University faculty in fall 1994 with colleagues Maythee Kantar and David Means. The three scholars made up the entire faculty of the Media and Fine Arts Department, which were at that time headquartered in an alcove in the university building at Eighth and Hennepin in Minneapolis. During those early pioneering days, Byrne is particularly grateful for the support provided by former colleagues Lisa Ann McMann and Donna Blacker. In 1999, Byrne founded the screenwriting bachelor of arts degree program at Metropolitan State. Other institutional highlights include founding Film Space in 2016, opening the door to bringing screenings for the Minneapolis Saint Paul International Film Festival to the Saint Paul Campus. His enduring achievement at Metropolitan State remains his experiences with the screenwriting majors, and all of his students, who have moved on to bigger and better things in their lives after graduating from Metropolitan State University. 
Michael Earhart started at Metropolitan State University teaching as community faculty in the Prison Program in 1985, and continued on in human services and psychology, beginning around 1991. He also continued his interest in gender studies over the years, and had a subsequent stint as fixed term instructor in psychology. Earhart began his official journey as an academic advisor four years ago. However, he credits his knowledge of and passion for advising to his friendship with Donna Blacker. He credits Karin Jax as a crucial mentor during his time as a fixed-term instructor.
As Earhart puts it, "I have always been blessed with a great team, which blossomed in joining (the) CLA team and being able work closely with old friends and new  colleagues at SCWA. Also, it was my privilege and honor to represent community faculty, serving several terms as community faculty vice president, and representing community faculty on the IFO State Board."
Earhart earned an undergraduate degree in philosophy and humanities from Macalester College, and followed up a decade later with a graduate in community psychology from the University of St. Thomas. He has been a Licensed Psychologist, M. LP, in Minnesota since 1978, and completed coursework towards a doctorate, sans dissertation, also at St. Thomas. Prior to and during his time as community faculty at Metropolitan State, he worked in both the public and private sector as a mental health professional. Looking to what lies ahead, Earhart says "I have always enjoyed and treasured my time with my wife, children, and most, recently my grandchildren. As I look to retirement, I look forward to more of the same, with more time together for travel, reading, cooking, and exploring whatever new options now might come our way."
Santos Martinez's 24-year career at Metropolitan State is the culmination of a lifetime dedicated to the empowerment of the Latinx community and the transformative role of higher education in the lives of students of color. Following six years directing the University of Minnesota's Chicano/Latino Learning Resource Center and nearly two years teaching Chicano history and culture at then Moorhead State University, he joined Metropolitan State University as director of what at the time was called the  AHANA (African, Hispanic, Asian, Native American) Multicultural Affairs Center in 1994.
Since that time, Martinez has been an indispensable resource for the university's diverse student population. Whether it was working with Pueblo, the Latinx student organization, to facilitate budgeting and develop leadership, or his long-time efforts to track enrollment data at Metropolitan State for student populations of color, helping the multicultural affairs staff to focus  resources on graduation and retention, Martinez has been a tireless innovator and caring steward toward the students he has worked with and aided.
The list of initiatives and programs Martinez has led and/or participated in is too long to list here, but includes coordinating outreach with admissions, acting as a bilingual representative for Spanish-speaking students and families, supporting students in the Deferred Action for Childhood Arrivals (DACA) program, working with the DASH emergency grant program, and helping to create and administer the IME-BECAS scholarship program in partnership with the Mexican consulate.
In the words of Associate Provost for Student Success Bobbie Anderson, "Santos has always been driven to help students, Latino and others,  who may never have been given the necessary resources to pursue their education. He has served as a person willing to listen to concerns and provide inspirational feedback to help students continue to push forward despite the challenges they may face."
Martinez's long years of dedicated service to the Metropolitan State community not only had a positive impact on countless students' individual successes, they will continue to set the university's multicultural students up for success in the future. As the state population becomes ever more diverse, his visionary work on student retention positions Metropolitan State at the forefront of institutions preparing to meet the educational needs of the Twin Cities and beyond.
Dr. Maythee Kantar joined the faculty at Metropolitan State in 1987. She is a change-maker who has served as a model teacher and advisor, a leader In local and statewide faculty governance, and a beloved colleague.
Kantar has received numerous Metropolitan State University awards including the Metropolitan State University Community Engagement Award, the Excellence in Teaching Award, the first Carol Ryan Outstanding Advising Award, the Excellence in Advising Award, and the Student Senate Award for Outstanding Contributing Faculty Member.
With a research specialization in children and the media, Dr. Kantar has done professional presentations and workshops at local, national and international conferences and schools for over 30 years. She has also received numerous grants to support her research, which focuses on the adaptation of children's literature to the media.
Kantar has been a beloved teacher at Metropolitan State since she arrived in 1987. Student-centered and committed to community engagement in her teaching, Kantar developed and taught more than 18 different classes in six different disciplines at Metro State. She also developed curriculum in media studies and information studies, and was the principal advocate for the development of the fine arts curriculum at the university.
The Metropolitan State community is well aware of Kantar's stellar record of service and leadership. She has served as department chair, curriculum coordinator, Metropolitan State Fulbright Faculty Scholar Liaison, President of the Metropolitan State Faculty IFO, statewide IFO Academic Affairs Coordinator, and much more. She has served on countless committees, including over 80 search committees.
Kantar's legacy will be felt throughout the university and the state for many years to come. Perhaps what stands out is her unwavering generosity—her willingness to offer her time and talents to build curriculum, connect with the community, help faculty members reach their potential, and provide students with opportunities they never dreamed that they would have.