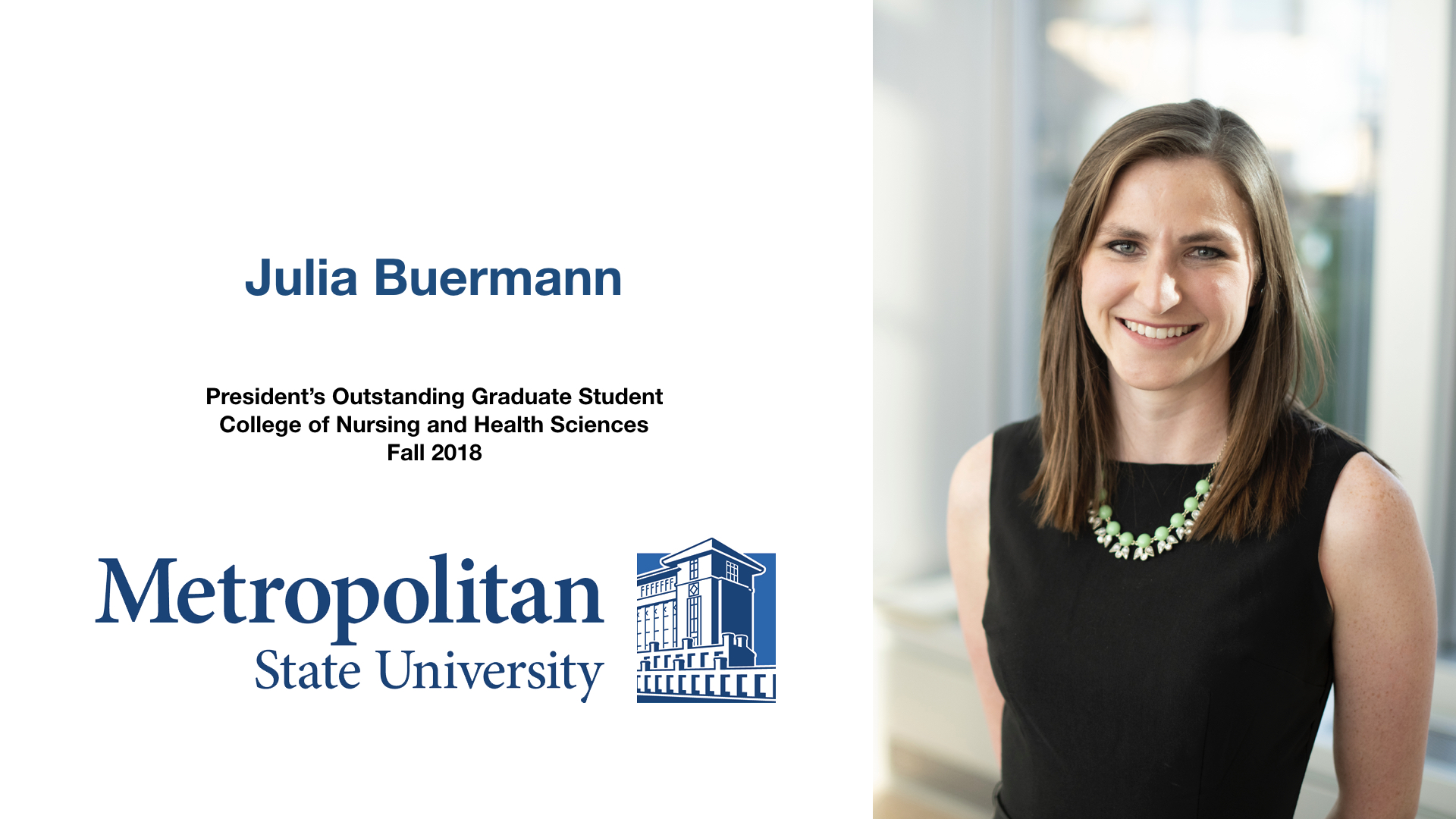 Julia Buermann, of Eagan, has been selected as a fall 2018 semester President's Outstanding Graduate Student award recipient at Metropolitan State University. Buermann, who graduated with an Entry Level Master of Science in Nursing (ELMSN), was chosen to represent the university's College of Nursing and Health Sciences. She was one of 1,302 students receiving bachelor's and master's degrees from Metropolitan State this semester. She was one of 583 graduates participating in the university's 103rd commencement exercises on Saturday, Dec. 8, at the Minneapolis Convention Center.
After earning a bachelor's degree in biology, Buermann wasn't sure about her next step. "I think whenever you're starting a new career or a new path in life, there's always that fear of change or what's going to come in the future," Buermann said. She decided to pursue a degree in nursing. The holistic focus of the Metropolitan State's ELMSN program stood out to Buermann and she chose to enroll. 
Buermann early fears dispersed as faculty mentorship and hands-on work in the simulation lab provided her with opportunities to "understand more about the profession of nursing and the diversity," she explained. "Now I no longer fear the change, but rather it intrigues me—kind of pushes me forward."
Buermann was also involved in the Nursing Student Organization (NSO) and planned numerous events for Metropolitan State students. She also volunteers for the Love Grows Here Wellness Center.
At commencement, Buermann delivered an address to the graduating class. Her speech can be viewed here: https://youtu.be/Z2d0L5fVLNk
After graduation, Buermann will work as a nurse at Regions Hospital in Saint Paul, and also work toward completing her public health and holistic certifications. Buermann also strives for a future role in leadership, possibly in her nursing unit or towards further education in nursing. 
Buermann's nominator, Deborah Matthias-Anderson said, "I nominated Julia Buermann mainly because of the exemplary leadership she demonstrated during her time in the ELMSN program. This was especially noted during her senior year, as she assumed presidency of the NSO. During Julia's work with the NSO, activities/programming expanded and membership in the organization increased."