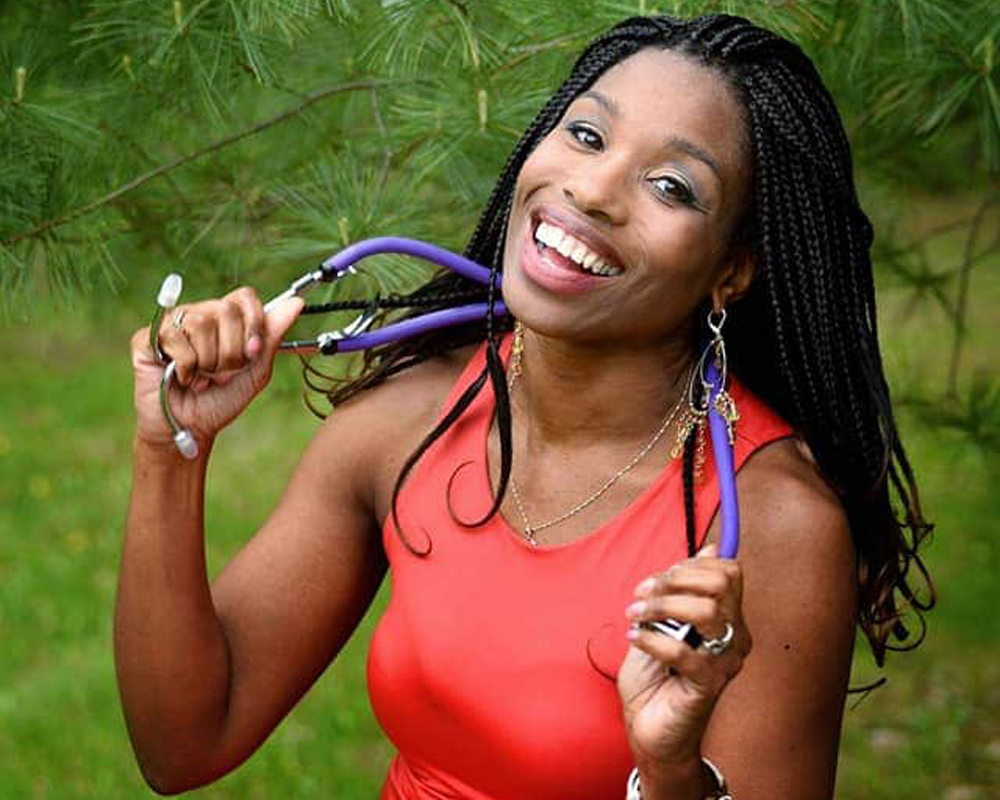 Jeanette Rupert, RN, '18, won Minneapolis/St. Paul Business Journal's first Health Care Heroes award as a Health Equity Champion for her work as a COVID nurse at Methodist Hospital and community nonprofit serving South Minneapolis, 612 MASH. The Health Equity Champion category recognizes health care workers who have worked to break down inequities in health care or health care access for underserved populations or areas.

Rupert was drawn to the profession of RN after her son had been hit by a car and needed medical treatment. She knew she wanted to be a part of the health care system and to give back. She began as an orthopedic nurse, but as the COVID -19 pandemic raged in 2020 she shifted her skills to the intensive care unit. After the killing of George Floyd, she volunteered in the neighborhood near 38th and Chicago in Minneapolis, where she grew up. She helped in the makeshift tent offering medical care for those who needed it, from bee stings to wounds.
Through this work, Rupert and other volunteers were able to leverage their trusted relationships within the community to launch the nonprofit 612 MASH (Minneapolis All Shall Heal). A stable, heated structure and a van stocked with medical gear provided basic medical care and education in the community.
In addition to giving back to the community that raised her, Rupert was motivated to represent in a community that may not be used to seeing Black medical professionals. "When I was young, I didn't think I could be a nurse or doctor," Rupert said. "I didn't see that modeled for me, so I knew it was very important to see us in the health care profession."

Rupert credits her work in the ICU as her biggest professional achievement of the past year. It was a chance for her to learn something new during the pandemic. She was part of the team that got 612 MASH up and running. 612 MASH rose to meet the medical needs of those injured during the uprising that ensued after George Floyd's murder. It began as a collective community response at George Floyd's memorial site in Minneapolis, dubbed George Floyd Square.
The need for free and immediate medical services was apparent and essential during the period of heightened violence surrounding George Floyd's murder. Word spread about the medical services available at the square. Those who needed medical attention but were unable to be access hospitals that had been shut during the demonstrations could instead seek services at 612 MASH.
Recognizing the need for these services extends beyond the turbulent times, the organization works to bridge the gap between communities and medical services to treat people, and also to connect them with available health and medical resources. These efforts entail Rupert making house calls after nursing shifts in the ICU nurse. She helps with medications, checks blood pressure and offers basic preventive care. It's her hope, and that of all involved in 612 MASH, that care is consistent enough to prevent the underlying health conditions that have made people of color more susceptible to the worst COVID. 

Being a woman of color in the medical field is monumental. Growing up, Rupert wanted to be an Olympic track athlete, as that's the only field she had seen a Black woman succeed in. She hopes she can be the familiar face that lets children of color know that they can do anything.
The 2021 honorees will be featured in the June 11 Health Care Heroes special print edition and honored during a virtual event on June 10. Read the full list of winners here: https://www.bizjournals.com/twincities/news/2021/04/05/2021-health-care-heroes-honorees.html