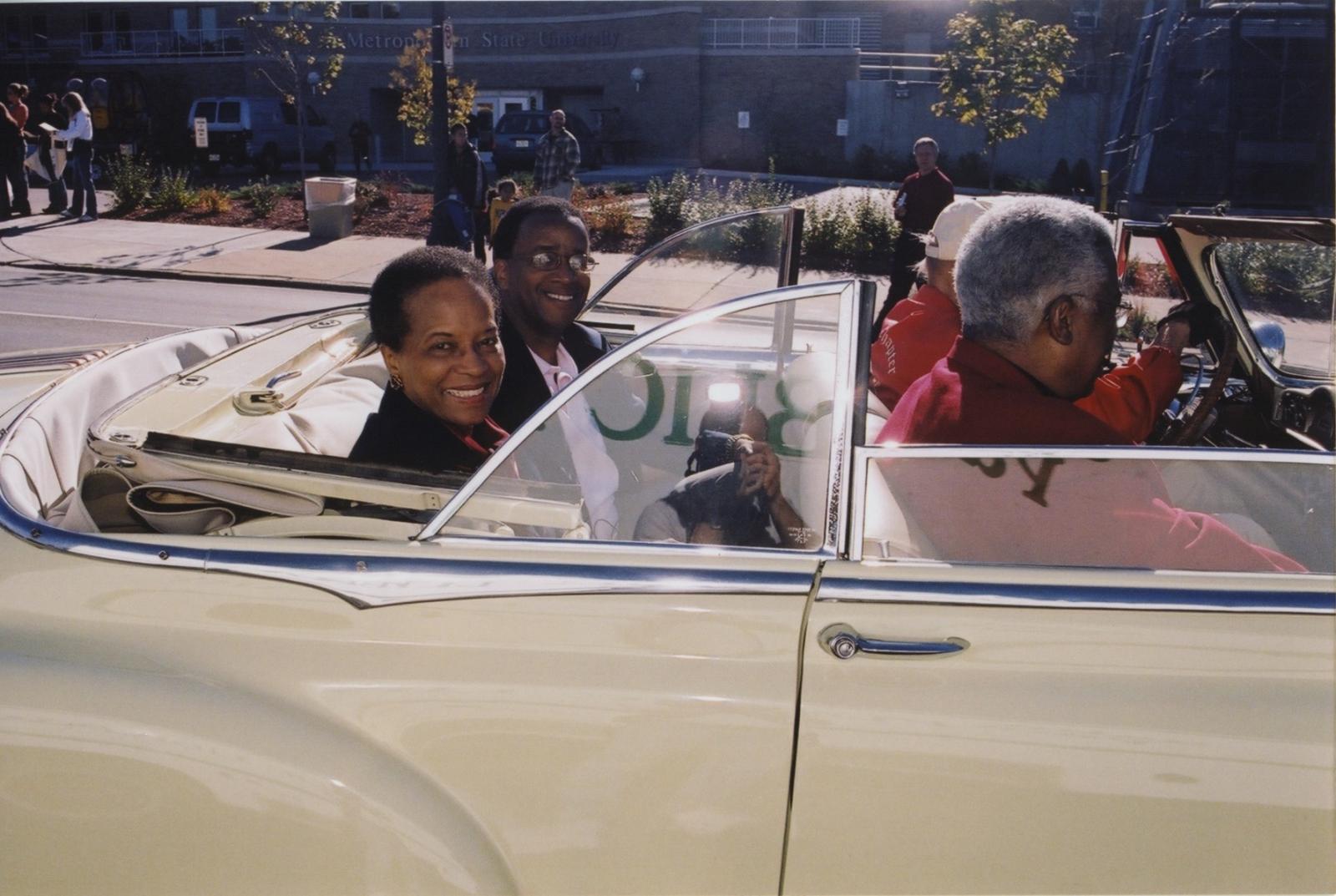 As we celebrate the University's 50th anniversary and Black History Month, Metro State looks back on key figures in its history and identity. Here are some previous articles about Reatha Clark King, as well as from her recently released biography.
Preface from "Find a Trail or Blaze One: A Biography of Dr. Reatha Clark King"
Reatha Clark King has a presence. Her quiet confidence, her bridgebuilding congeniality attract others like sun-starved flowers to the light. She is warm and friendly and has developed the enviable skill of truly listening when others are speaking. Around Reatha, precipitous mountains are reduced to hills, and you begin to imagine that all things are possible. All you need is a dash of strategy and a heaping spoonful of hard work—the recipe Reatha used to rise from a girl working in the cotton fields of South Georgia to a doctorate-wielding chemist, academic, corporate executive, and philanthropist.
When I first met Dr. Reatha Clark King, I knew I was sitting across the table from a superstar. This was the woman who had contributed to NASA's Apollo 11 moon landing. This was the person who had rocketed through the ranks of academia, moving from associate professor to dean of academic affairs to university president in less than a decade (during an era when one could count the women of color who led accredited universities on one hand). This was the titan of philanthropy who had headed the General Mills Foundation, started numerous community oriented initiatives, and served on the boards of a half dozen major corporations and four times as many nonprofit boards. This was the person who had delivered lectures around the world and had earned enough awards to wallpaper her entire home.
Reatha is more than a highly accomplished public figure; she is a quintessential American success story. As a ghostwriter, I've written about the lives of several accomplished individuals, but none sprouted from roots as humble as Reatha's.
Despite her impressive sum and long list of trailblazing accomplishments, Reatha never acted like the superstar I expected. At the restaurant where we met, she greeted me with a hello and a warm smile (she would end our meeting with a hug), then proceeded to chat with every server, host, and maintenance worker in the place, asking how they were doing and "How's that new baby daughter of yours?" One man retrieved his phone and began showing her pictures of his family.
That's the kind of person Reatha is.
She's caring and kind. She thinks more about her grandchildren than her fourteen honorary degrees. She shines without paying any mind to her own brilliance.
Working with Reatha, I knew I could relate to her journey from both an insider's and an outsider's point of view. We're both career focused women who have encountered discrimination and harassment due to our gender. We both come from rural backgrounds and were expected to chip in from an early age to support the family (though her young work life makes mine seem like a picnic on the beach). But despite our commonalities, I only know a fraction of Reatha's struggle. I'm not black; I wasn't raised in the segregated South. Try as I might, I can never fully understand the constant fear, the daily struggles, the pressing feeling that the world is rigged against you from the moment you take your first breaths.
Because my path has been different from Reatha's in many respects, I knew I had to make a concerted effort to ask a lot of questions, do research, and read mountains of books by and about people of color. I knew Reatha and I would have to walk in lockstep during the writing of this book, with her reviewing every chapter, every sentence, to make sure I was accurately capturing her voice and her journey.
But I needn't have worried. Reatha poured herself into this book, just as she has done with every project she has tackled, every grant written, every speech delivered. Now in her eighties, she still has the energy of an Olympic athlete and a mind sharper than cut glass. Together, we crafted her biography. She is the storyteller; I am the conduit.
On the day we first met, I couldn't have known how attached I would become to both Reatha and her story. She would become more than a subject, more than an interviewee. She would become a friend, a mentor, an inspiration. The woman sitting across from me in the restaurant—bright as a jewel in her floppy red hat and multicolored jangly jewelry—would become a guiding light for me, as she has been for so many others, while our city (and nation) clawed its way through some of the most difficult months in recent memory.
I am a better person for knowing Reatha, and I hope you, too, will absorb some of her brilliance through her incredible story.
Sincerely,
Kate Leibfried
Reatha Clark King Endowed Scholarship
Buzz magazine, Fall 2015
Two hundred five students have been awarded the Reatha Clark King (RCK) Endowed Scholarship since it was first launched in 1987. Reminded of just how many students merited Metropolitan State's firstendowed scholarship, the woman for whom the scholarship is named is bowled over.
"It just brings tears to my eyes," says King, who served as the university's second president, from 1977 to 1988, and is now a Minneapolis-based "retired/consultant." More than $440,000 has been disseminated to students in King's honor.
The RCK scholarship holds special attachment to King, because she relied on student aid herself while attending college. The daughter of a Georgia sharecropper, King went on to earn graduate and doctorate degrees and later became a research chemist, professor and associate dean.
Also meaningful to her is the N. Judge and RCK Family Endowed Scholarship, which she and her late husband created in 2000. The two were also major donors for the "N. Judge and Reatha Clark King Skyway" linking New Main and the library on the Saint Paul Campus.
After her university presidency, King spent 14 years with the General Mills Foundation as executive director and president and another year as foundation board chair. Since retiring from the foundation in 2003, King—who has received 50-plus civic and business awards—served on many nonprofit and corporate boards and remains active on corporate governance and association issues.
And while proud of her Metropolitan State and other career achievements, her heart swells when she occasionally meets an RCK scholarship recipient.
"One memorable time, my son and I were in downtown Minneapolis and someone going down the escalator recognized me and said hello and that she had received the (RCK endowed) scholarship," says King. "We were going up the escalator, but I turned right around and went down the escalator to talk with her. People tell me what they're doing now, what jobs they've had because of their education."
"It's so gratifying to hear that."
Where are they now?
Buzz magazine, Fall 2009
What a scenario for Reatha Clark King: Metropolitan State was known far and wide by higher education officials for its innovativeness during her 1977 to 1988 tenure as president. But as for the university's familiarity within Minnesota, it was more like "Metro what?"
"When I arrived, Metropolitan State was considered a star in national higher education circles because, among other things, it was a 'university without walls' and it offered credit for prior learning," said Dr. King, then one of only a handful of women nationally leading public colleges and universities. "But within the state, we really weren't that well known."
The mild-mannered but forthright King cemented a reputation as an outspoken advocate for the university. In the end, the university's second president believes her endless outreach touting Metropolitan State—to community organizations, businesses, higher education institutions, policy makers and others in Minnesota, nationally and even internationally—made a significant difference.
"I reached out to anyone who would hear our story but especially state legislators, because they controlled funding. They needed to understand us. All of those experiences helped me grow tremendously in developing my people skills and as a strategist."
In one sense King considered herself fortunate. Since Metropolitan State had no residence halls, athletic teams and other symbolic hallmarks of traditional higher education, she could concentrate on promoting the university, then just offering upper-division courses, as an accessible institution for many. That dovetailed nicely with her longtime higher education philosophy.
"All citizens deserve a quality education and, while I'm not an argumentative person, I was ready to refute anyone who disagreed with that notion," said King. "So from the outset, I embraced, with passion, energy and confidence, the mission of the university to provide educational opportunities for underserved students, particularly working adults, women and minorities."
In part, that's because she fit into all those categories herself. As a young African-American woman growing up in rural, segregated Georgia in the 1940s and 1950s, the implied message was she didn't deserve an education. But the daughter of sharecroppers overcame that barrier and graduated from Clark College in Atlanta, later
earning advanced degrees from the University of Chicago and Columbia University.
"An education can open doors and provide additional opportunities to improve your circumstances and enjoy life," said King, a working mother who raised two young sons with her husband, Judge, when she headed Metropolitan State. "Education increases chances you can participate in society, particularly offering you a variety of ways to serve society."
King worked diligently to build and energize a variety of constituencies. She spent much time motivating faculty, administrators and students. And King rallied support from multiple sources, including alumni, the university foundation and others.
"I enjoyed the opportunity to do a considerable amount of fundraising and friend-raising for the university," she said.
From her downtown Saint Paul office at the corner of Seventh and Robert streets, King shepherded the university to several significant milestones: stabilizing the university's finances; adding more undergraduate degree programs and Metropolitan State's first master's program—the master of management and administration; and earning the institution's first national degree program accreditation in nursing.
"I'll never forget when the National League of Nursing Accreditation Commission approved it. I was in California attending a higher education meeting at the time. The Twins had just won the 1987 World Series and someone said that Minneapolis was going crazy with people celebrating and spilling out into the streets.
Meanwhile, I was also celebrating, but for two reasons—for the Twins and for our program accreditation."
King played a pivotal role in enhancing Metropolitan State's visibility. She spearheaded the critical decision to acquire the old Saint John's Hospital site and locate Metropolitan State's administrative headquarters there. She vividly recalls a meeting at a landmark Saint Paul restaurant that helped persuade her.
"It was a breakfast meeting at Mancini's restaurant," she said. "When I walked in, you could feel the excitement of the more than 200 people attending, all of whom wanted us to situate on the East Side."
After departing Metropolitan State, King served on a number of prestigious corporate and nonprofit boards. She worked for 14 years as president of the General Mills Foundation and vice president of General Mills, Inc. For one year, she was the foundation's board chair.
Throughout the intervening years, she has kept in touch with the university. A signature scholarship, awarded to academically promising, community-minded and financially struggling students, was created and named in her honor. She and her husband continue contributing to that scholarship and offer other significant philanthropic support to Metropolitan State.
King, who lives in Minneapolis, has met several times with President Sue K. Hammersmith. She is convinced the current president is the right choice at the right time for the university.
"President Hammersmith is such a remarkable woman," said King. "I know she will carve out a path and take the university to new heights."