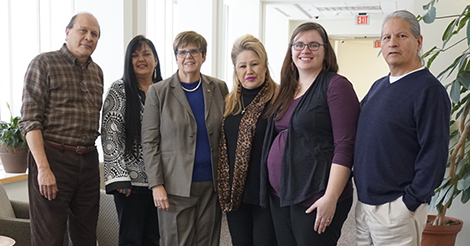 In 1988, Minnesota established a statute to ensure the educational success of American Indian students. The Metropolitan State University American Indian Advisory Committee (AIAC) was established at the request of American Indian students and has been a voice for the university's American Indian students and staff for nearly 30 years. The committee is made up of approximately 10 American Indian university faculty, staff and community members. Committee members meet with and advise President Ginny Arthur each month to improve the lives of American Indian students. The AIAC meets the unique needs of American Indians by recommending instructional programs and student services to the president, who in turn supplies the AIAC with data and annual reports.  
"Most recently, the AIAC advocated for the establishment of a space for American Indian students, which will be open in the fall of 2018," says committee member Pauline Danforth, community faculty.
The American Indian Student Space is years in the making. In January 2011, concerned about decreasing enrollment of American Indian students from 2007–2009, the AIAC met with then-President Sue Hammersmith. She asked the committee, "What three things could Metropolitan State University do right now to have a positive impact on its American Indian community?" Those three most important answers were: 1) reinstating the American Indian Admissions Liaison position, 2) establishing a dedicated space for American Indian students and staff, and 3) increasing academic offerings focused on American Indian subject matter.
In 2018, American Indian student enrollment at Metropolitan State is increasing, with 65 students self-identifying as "Not Hispanic; American Indian or Alaska Native only." The "dedicated space for American Indian students and staff" will be the American Indian Student Space, located on the second floor of Founders Hall. Its grand opening will be in September 2018. American Indian students will be able to get inside using their Metropolitan State ID. There will be desks, chairs, and some lockers to accommodate students before and after class, as well as computers and a refrigerator. Students will be able to meet there to study, have small events, learn about American Indian community events, hear discussions and lectures with American Indian community elders and tribal officials, and more. A spiritual elder will be available to provide traditional and spiritual advice. Appropriate cultural elements representing the 11 tribal nations of Minnesota and the upper Midwest states will also be included.
"The space will provide more than just resources for our students," AIAC member Joseph Flores says. "It will serve as a reminder to non-Native students and the university that this space has been dedicated in recognition of the unique status that Native students have."
The AIAC will continue to focus on recruiting and retaining American Indian staff, faculty and students at Metropolitan State in the future. "Retention is a university-wide effort," AIAC member Renee Beaulieu-Banks says. "Programs, departments, and curriculum must be inclusive to American Indians."