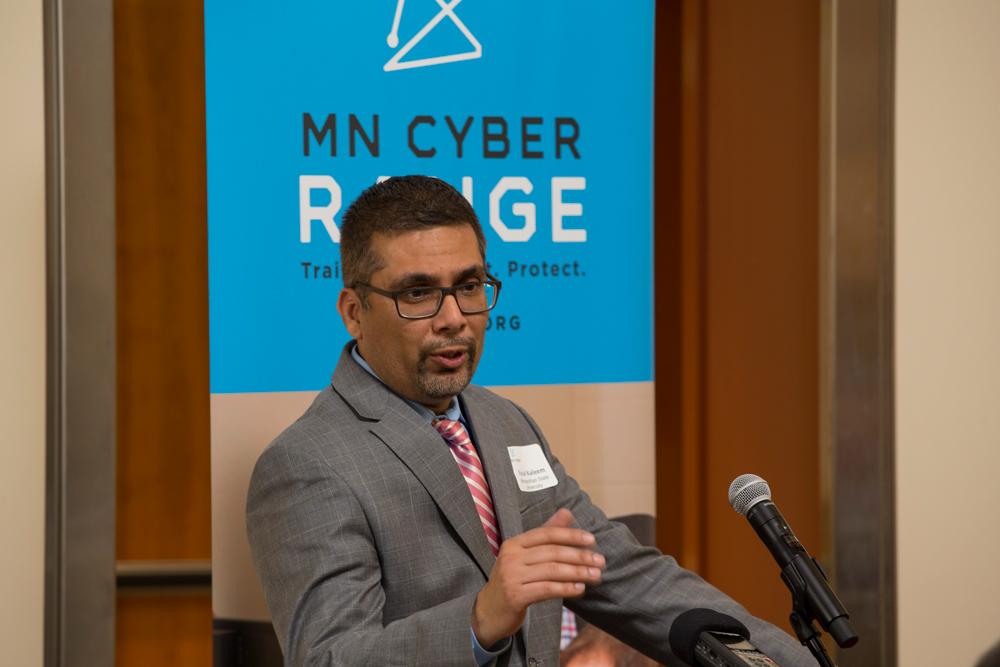 The Cyber Security Summit has announced that Professor Faisal Kaleem of the Department of Computer Science and Security at Metropolitan State University and executive director of MN Cyber is a recipient of the 2018 Visionary Leadership Award in the academic leaders category, and that Richard Ketelsen is a winner of the award in the student category.
The awards recognize innovative people in Minnesota at all levels who help develop and foster strategies to protect critical systems and data. Winners will be recognized at an awards event in conjunction with the 8th Annual Cyber Security Summit, Oct. 22-24 in Minneapolis. In addition to recognition for their accomplishments, award recipients will have a brief opportunity to share their innovative strategies with their peers and attendees of the summit. Summit attendees come from the public and private sectors, bringing together thought leaders from industry, government, and academia.
Based in Minnesota, Cyber Security Summit was founded as a trade organization in 2011 to spark conversation around the topic of security. Since that time, it has annually brought together leaders from state and national industry, government and academic interests to improve the state of cyber security nationally.
The recognition is open to visionary leaders in the field of cyber security. Known as "Morrie Awards," the awards are named after Robert Tappan Morris, the American computer scientist who notably created the first computer worm on the Internet. He later went on to make significant contributions to computer networking as well as co-found the funding firm Y Combinator, and become a tenured professor at the Massachusetts Institute of Technology.
At Metropolitan State University, Kaleem has spearheaded initiatives in the cybersecurity education and training. He was key to the creation and development of MN Cyber Institute and the MN Cyber Range, which opened in May 2018 as the first of its kind in Minnesota.  The MN Cyber Range represents a unique opportunity for the state's businesses, government agencies, and National Guard to partner with Metropolitan State University to address unprecedented cybersecurity workforce and training demands. MN Cyber positions Minnesota as a national leader in cybersecurity through education, innovative public/private partnerships, interdisciplinary research, and community engagement. In addition to the MN Cyber Range, the organization's outreach includes the MN Cyber Academy for training professionals, and MN Cyber Pathways, to interest youth K-12 in cybersecurity career fields.
"This is an exciting time for Metropolitan State especially in the cybersecurity field. As a National Security Agency and Department of Homeland Security Center of Academic Excellence and the host for MN Cyber, Metropolitan State is poised to become a national leader to offer cutting-edge cyber training and to bring different opportunities for various stakeholders. That day is arriving soon when Metropolitan State will be known globally because of its cyber offerings," Kaleem says.
Ketelsen is currently finishing the Bachelor of Science degree in Computer Science with a minor in Applied Mathematics in the College of Sciences. The award recognizes his achievement and leadership in various cybersecurity programs at Metropolitan State. Upon his graduation, Ketelsen would like to continue his work and studies by enrolling in the computer science masters program. In the future, he hopes to work in a DevOps cybersecurity role with a Fortune500 company. He would also like to join Metropolitan State community faculty to teach cybersecurity and computer science.
"This is a great honor for both Professor Kaleem and Richard Ketelsen and recognizes the high quality of work going on at Metropolitan State University in the area of cybersecurity on so many different levels," Metropolitan State College of Sciences Dean Kyle Swanson said. "It's exciting to have this level of energy and passion for the field in our college."