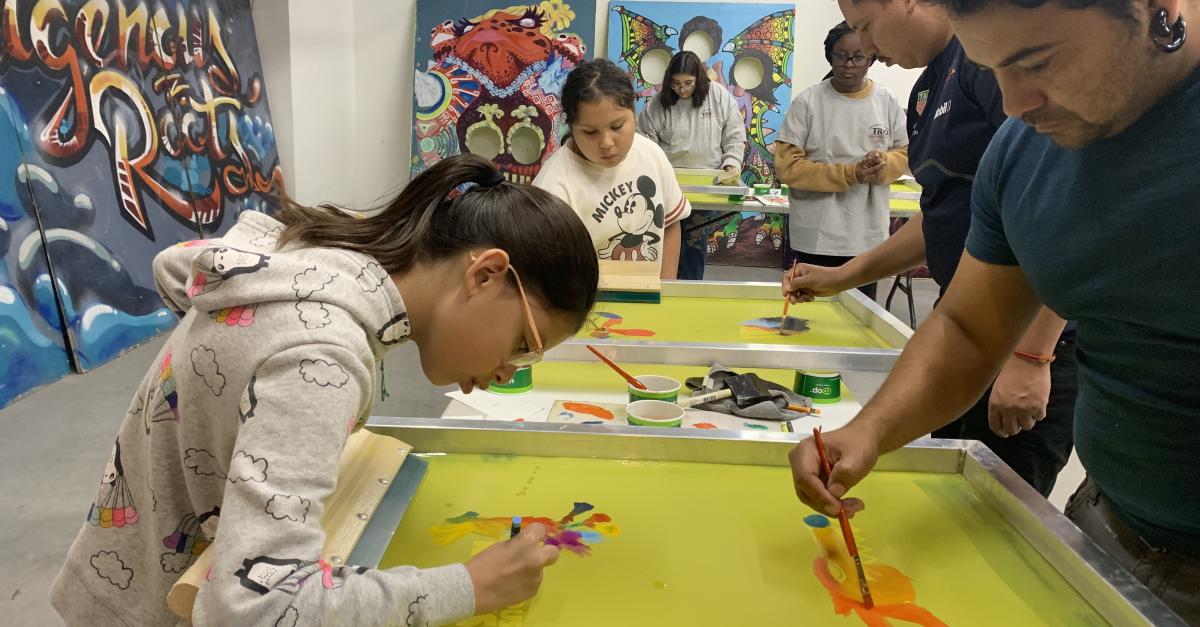 By Sarah McVicar
In spring 2018, an idea was born when Sergio Cenoch Quiroz took the Museums and Galleries class taught by Metropolitan State University professor and artist Amy Sands. Sergio was particularly interested in the class, having recently opened the Indigenous Roots Cultural Arts Center with his wife, Mary Anne Quiroz, not far from Metropolitan State's Saint Paul campus.
While it officially opened in May 2017, the seeds of Indigenous Roots go back over a decade to a community dance and drum circle, Kalpulli Yaocenoxtli, which shares traditional Mexica Nahua dance, drum and song. While the circle continues, Indigenous Roots has expanded to become a multidisciplinary, multigenerational, multicultural center, described as a "collective of artists and organizations dedicated to building, supporting and cultivating opportunities for Indigenous peoples and communities of color through cultural arts and activism."
More than simply a gallery space, Indigenous Roots has become a vibrant community hub, hosting events from hip hop classes and breakdance battles to traditional ceremonies and organizing meetings, fashion shows, wrestling and cabarets. The Quirozes see the gallery growing in response to a critical unmet need in the community.
"When we opened the doors, people came," Sergio explained. 
Fast forward to 2018 when Sands learned that one of her students had opened his own gallery. She arranged for her class to tour the space, where they discovered that Indigenous Roots had screen printing machinery they didn't yet know how to use. Sands knew she could help. Sands, who has been teaching for 24 years (11 at Metropolitan State), is herself known primarily as a printmaker, although she also works in other media. Sands exhibits her work nationally and internationally in countries such as Portugal, Spain and Japan.
Sands thought this could be a great opportunity to teach screen printing at Indigenous Roots, but screen printing and the necessary material and prep work is expensive and otherwise resource-intensive. So, when Sands saw the Community-Engaged Scholarship grant through the Institute for Community Engagement and Scholarship – a grant which "encourages and supports scholarly work that involves faculty and communities in co-creating knowledge and exchanging resources" – she decided to apply. Initially she wasn't certain whether her idea would fit the CES grant parameters but went ahead with the application. With a letter of support from Mary Anne, she ultimately received funding, an opportunity for which she is extremely grateful.
Sands and the Quirozes worked together to develop a community screen printing workshop held on Oct. 12. The workshop was open to all and especially encouraged the participation of Indigenous youth, as the Twin Cities Chapter of the International Indigenous Youth Council (IIYC) meets and hosts many events at Indigenous Roots and was closely involved in the creation and promotion of the workshop. 
Sands cites the collaboration as a great example of the numerous and unique opportunities for mutually-beneficial community and university partnerships. She describes the workshop as a three-way collaboration between herself, Indigenous Roots and the youth council members, and the workshop participants.
"Art is a means of breaking down barriers," Sands says. "People get to express themselves in a way that's unique and fun. Everybody has something to offer."
Mary Anne echoes the sentiment: "We believe that everybody has something to contribute." Indigenous Roots is an example of what can happen when a community comes together and invests in a shared vision. Quiroz describes the center as being fueled by "sweat equity and people power," adding that Indigenous Roots "survives and thrives based on partnerships" with various community groups, organizations, businesses and institutions like Metropolitan State.
As for how these partnerships develop, Quiroz explains that as opportunities arise, the center looks for alignment and fit with their ideas, values, themes and capacity. Quiroz is appreciative of the opportunity to partner with Sands and Metropolitan State, calling the collaboration an engaging and valuable learning experience.
"There's always something to learn," Quiroz says. 
Ultimately, the Quirozes hope to continue expanding and fully utilize their building space – one that already houses wellness practitioners in addition to the many artists and community members — as well as broadening their community reach with their vision for creating an arts and cultural corridor on East 7th Street. As for Sands, in addition to continuing to expand her reach as a professional artist, she's working to develop Metropolitan State's studio arts program and bring in exciting new technologies like augmented reality to offer students the experience of 3-D artmaking.
Regarding future collaborations between Indigenous Roots and the university, Sands says there's nothing currently planned but there may be opportunities ahead: "The door is always open."