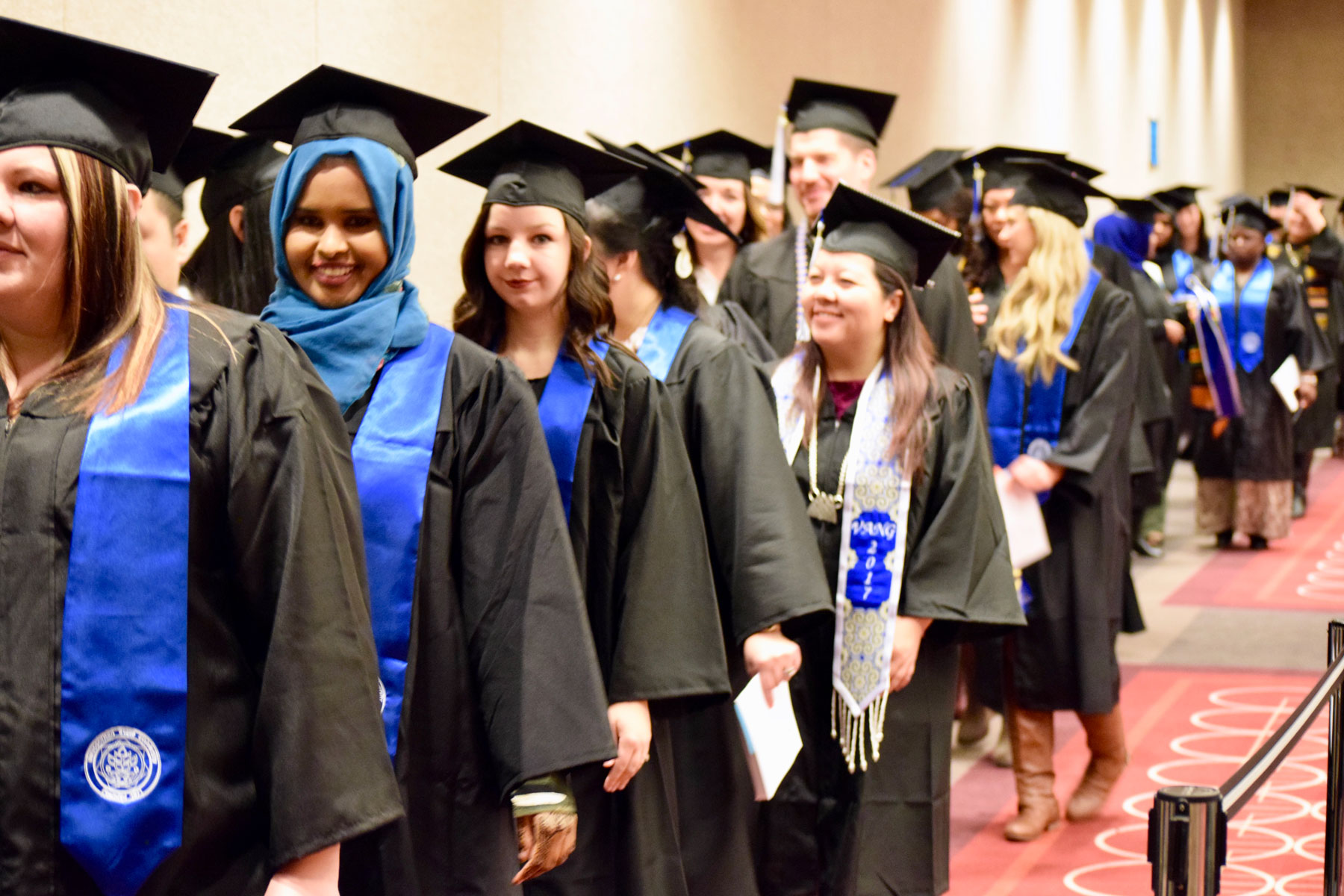 Approximately 1,079 students are receiving bachelor's and master's degrees with 821 students expected to participate in Metropolitan State University's 104th commencement exercise.
This spring, Metropolitan State recognizes 986 students who are receiving undergraduate degrees, 77 graduate students receiving master's degrees and 16 students receiving doctoral degrees. To accommodate Metropolitan State's growing student body, the spring commencement ceremony will take place as two programs Saturday, April 27, 2019, at the Minneapolis Convention Center, 1301 2nd Ave. S. The morning program will begin at 10 a.m., and the afternoon program will begin at 2 p.m. All guests must have a ticket. The ceremony will be live streamed at metrostate.edu for those unable to attend.
The morning program's student address will be delivered by Misha Jameson, President's Outstanding Graduate Student award recipient for the College of Liberal Arts. The morning exercise recognizes graduates from the College of Liberal Arts, College of Management, College of Sciences, and the School Urban Education.
The student speaker for the afternoon exercise will be Jordan Berg, President's Outstanding Student award recipient for the College of Community Studies and Public Affairs. The afternoon program recognizes graduates from the College of Community Studies and Public Affairs, the College of Individualized Studies, and the College of Nursing and Health Sciences.
Other commencement participants include:
Virginia "Ginny" Arthur, J.D., Metropolitan State University president
Dr. Amy Gort, provost and executive vice president for Academic and Student Affairs
Alex Cirillo, trustee, Minnesota State Board of Trustees
Irene Wright, president, Alumni Association Board of Directors
Dr. Michael O'Conner, Metropolitan State University Alumnus of the Year 2019
Dr. August Hoffman, president of the Inter-Faculty Organization
A representative from the Metropolitan State Student Senate 
Since 1971, Metropolitan State University has conferred 43,214 bachelor's degrees, 3,916 master's degrees and 72 doctoral degrees. Metropolitan State is committed to meeting the higher education needs of the people of Minneapolis–Saint Paul. Learn more about Metropolitan State at www.metrostate.edu.