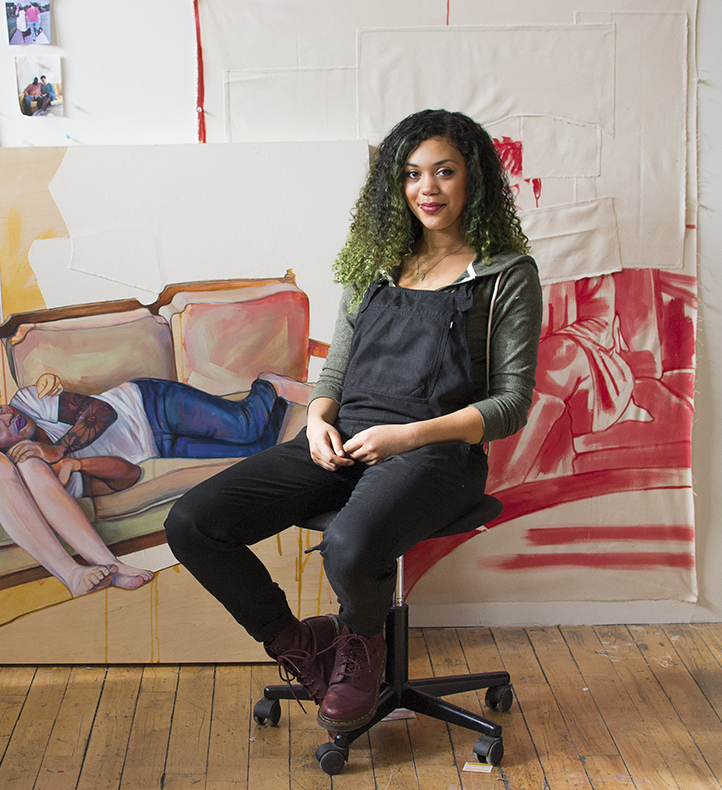 Community faculty member Leslie Barlow was named a recipient of the 2019 McKnight Fellowship for Visual Artists. She is one of six artists in the Twin Cities to be recognized with the award, announced by the Minneapolis College of Art and Design (MCAD) on behalf of the McKnight Foundation.
"It's an honor to be acknowledged in this way, and I look forward to these next two years of the fellowship and everything that it may bring," Barlow says. She teaches in the Studio Arts program in the School of Communication, Writing, and the Arts, College of Liberal Arts at Metropolitan State University.
Barlow's paintings share stories through portraiture that explore the politics of representation, identity, otherness, and racial constructs. Barlow's work, which can be viewed on her website lesliebarlowartist.com, has been exhibited both locally and nationally, and been featured in Vice, Huffington Post, Hyperallergic, and Shades of Noir.
She has received two Minnesota State Arts Board Grants, and has been commissioned for several large site-specific projects including work for the Hennepin County Medical Center and the TCO Performance Center Vikings facility. Barlow teaches at Metropolitan State University, University of Minnesota, Juxtaposition Arts, and collaborates with Public Functionary to lead the new emerging artist project Studio 400.
Barlow is also an active member on the leadership team of MidWest Mixed, an organization that works to expand our understanding of race and identity through educational outreach, arts engagement, and a biennial conference.
The McKnight Fellowships for Visual Artists is identifies and supports outstanding mid-career Minnesota artists. The fellowships provide recipients with $25,000 stipends, public recognition, professional encouragement from national visiting critics, and an opportunity to participate in a speaker series. The fellowships are funded by a grant from the McKnight Foundation and administered by MCAD.  

The 2019 McKnight fellows were selected from a group of 210 applicants by a panel of arts professionals of varying backgrounds whose careers intersect with the visual arts in different ways. This year's jurors were Sama Alshaibi, professor and co-chair of photography, video, and imaging at the University of Arizona, Tucson; Evan Garza, independent curator based in Texas (previously curator of public art at Rice University); Amanda Hunt, director of education and senior curator of programs at the Museum of Contemporary Art, Los Angeles.  

The McKnight Artist Fellowship Programis one of the oldest and largest of its kind in the country. Established in 1981, the fellowship program provides annual, unrestricted cash awards to outstanding mid-career Minnesota artists in ten areas, totaling nearly $1 million each year. Non-profit arts organizations oversee the administration of the fellowships and structure their own programs to respond to the unique opportunities and challenges of different creative disciplines.