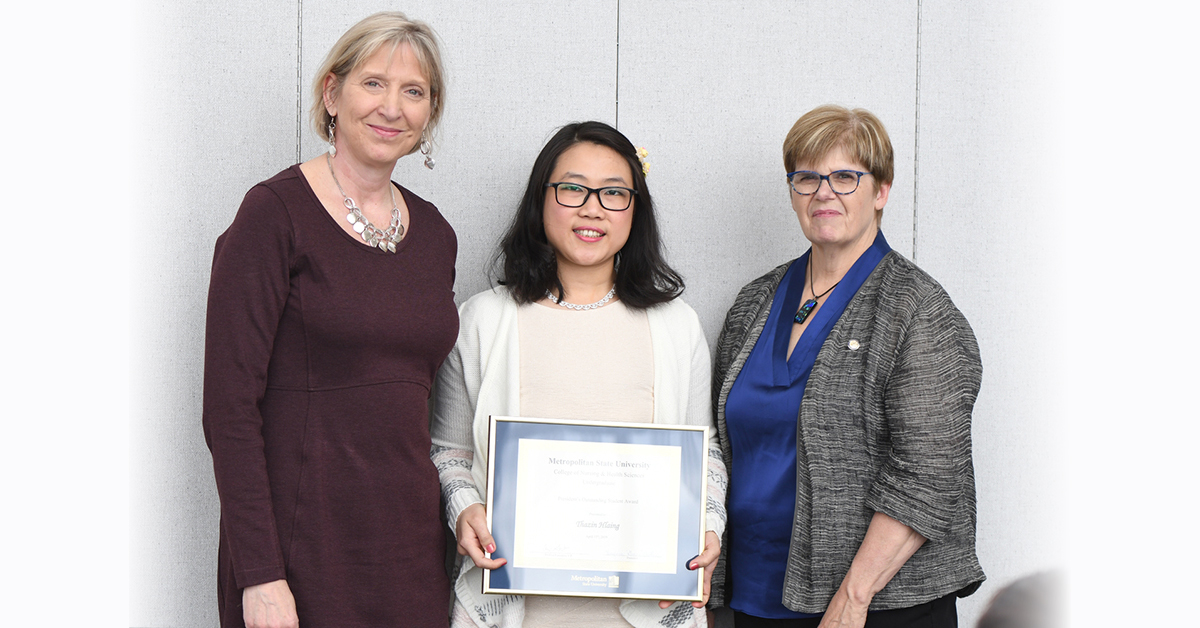 Thazin Hlaing of Saint Paul resident has been selected a spring semester Outstanding Student at Metropolitan State University.
Hlaing graduates with a bachelor's degree of science in nursing with the Minnesota Alliance for Nursing Education (MANE) and is selected as the President's Outstanding Undergraduate Student award recipient for the university's College of Nursing and Health Sciences. She is one of 1,079 students graduating in the spring semester. Metropolitan State's 104th commencement exercises take place April 27, 2019, at the Minneapolis Convention Center to confer bachelor's, master's and doctoral degrees.
"What I appreciated most about my university experience was that I learned a lot about diverse cultures, gained experience from participating in activities hosed by student organizations, and could get help from my instructors when I was struggling in some areas," Hlaing said.
Hlaing currently works as a TRIO tutor and a Direct Support Professional. After graduation, she plans to take the board exam and work as a nurse, and continue her journey to become a Certified Registered Nurse Anesthetist (CRNA).
Originally from Myanmar, Hlaing lives in Saint Paul with her uncle and aunt. The rest of her family lives in Myanmar. She enjoys reading, listening to music, biking, and playing badminton. At Metropolitan State, Hlaing participated in activities hosted by the university's International Student Organization. Hlaing volunteers in the community at Sitagu Dhamma Vihara, a Buddhist monastery and temple, and United Hospital.
"Nursing faculty really appreciate her inquisitive nature, her perseverance, and her desire to do her best in the classroom, in labs, and in clinicals," Carol Reid, Hlaing's advisor, said. "As her advisor, I have been impressed with her organization skills, and her professional demeanor whenever we meet."
Each fall and spring semester, colleges at Metropolitan State nominate students for the Outstanding Student and Outstanding Graduate Student awards. Nominees are evaluated on the basis of their academic performance in their degree program, as well as achievements in their community and professional contributions. All finalists are recognized in the commencement program, outstanding students receive special recognition during commencement, and are eligible to speak at commencement.
Metropolitan State University, a member of Minnesota State, is the Twin Cities' public, urban, comprehensive state university providing lifelong learning and competitive academic and professional degree programs at the bachelor, master and doctoral levels.