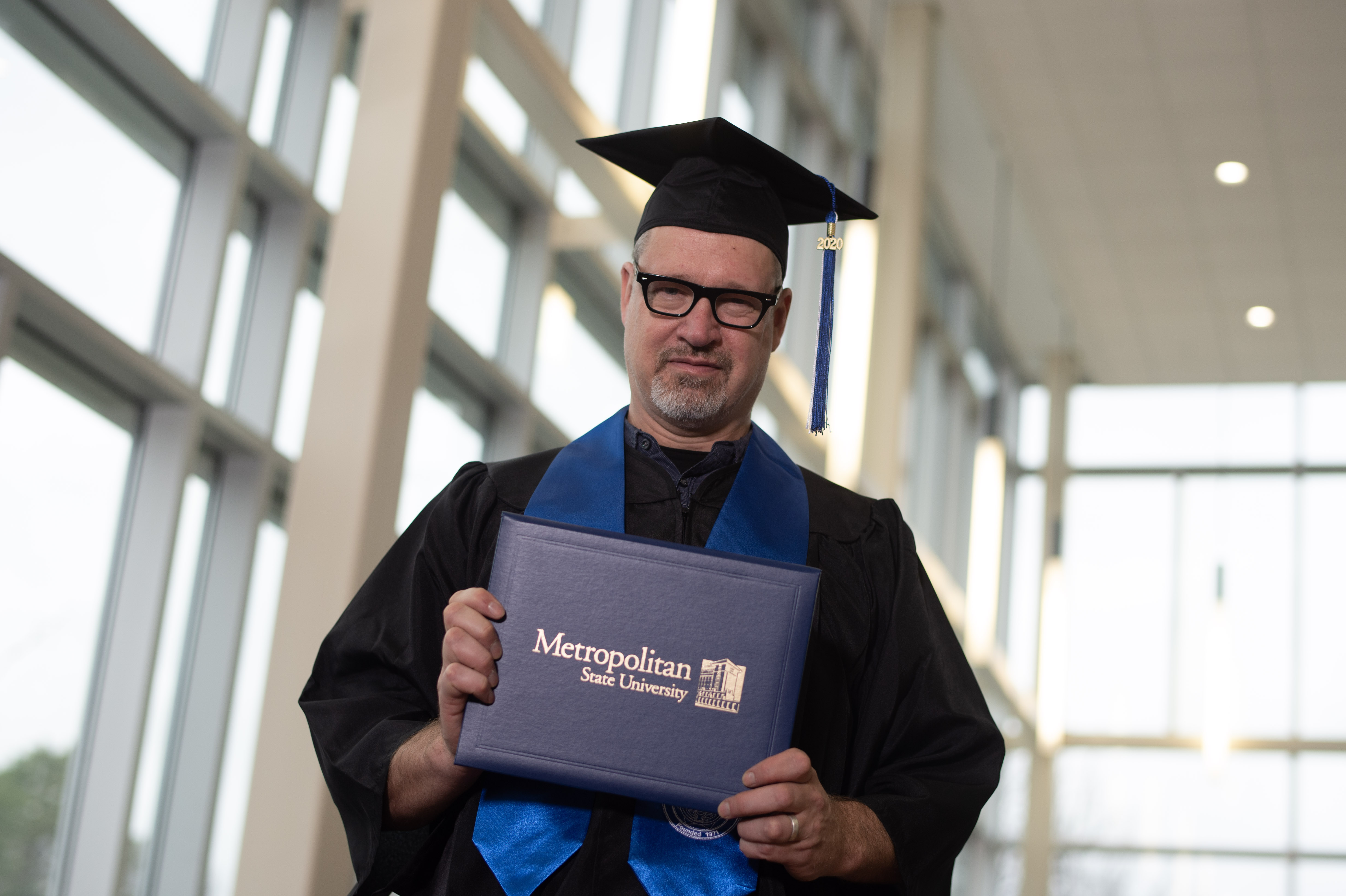 By Alexa Kraker
Metropolitan State University
A south Minneapolis resident has been selected a fall semester Outstanding Student at Metropolitan State University.
Tony VanDenEinde is one of 11 Metropolitan State students who were recognized at the President's Outstanding Student Award Reception on Dec. 5, 2020. President's Outstanding Student Award recipients are nominated by their professors and advisers and selected based on their academic excellence, community service, academic innovation in the educational program and professional achievement.
VanDenEinde graduates summa cum laude with a Bachelor of Arts in Studio Arts degree and is chosen Outstanding Student in the university's College of Liberal Arts. He is one of 1,258 students receiving bachelor's, master's and doctorate degrees at Metropolitan State's 107th commencement exercises, which will be celebrated with an online ceremony on Dec. 12, 2020.
It was the convenience of the campus locations and flexible scheduling that drew VanDenEinde to enroll at Metropolitan State University. He was nervous about attending a four-year institution, but discovered that he enjoyed his classes and found the amount of work he put into his classes quite rewarding.
VanDenEinde previously attended Hennepin Technical College, earning his associate's degree in motion graphics and animation in summer 2020. He transferred to Metropolitan State to complete his four-year degree. He also holds an associate's degree in commercial arts from 1990. With three decades of graphic design experience, VanDenEinde is now an active freelancer. He has also previously volunteered with Art Buddies and Minnesota Children's Museum.
He hopes to pursue a career as a K-12 art teacher in the Minneapolis area. However, in the COVID-19 pandemic environment, he may adjust his plans and seek work as a substitute teacher or an online focused educator.
"My time at Metropolitan State University has also given me great experience using virtual reality and other digital technologies that I am hoping to integrate into my teaching," VanDenEinde says.
VanDenEinde graduated from his hometown high school in Mahnomen, Minnesota in 1988. He currently resides in south Minneapolis with his wife Jessica, stepchildren Xander and Zoe, and children Evan and Nolan. When VanDenEinde is not working or studying, he enjoys playing volleyball and traveling.
Metropolitan State University, a member of Minnesota State, is the Twin Cities' public, urban, comprehensive state university providing lifelong learning and competitive academic and professional degree programs at the bachelor, master and doctoral levels.