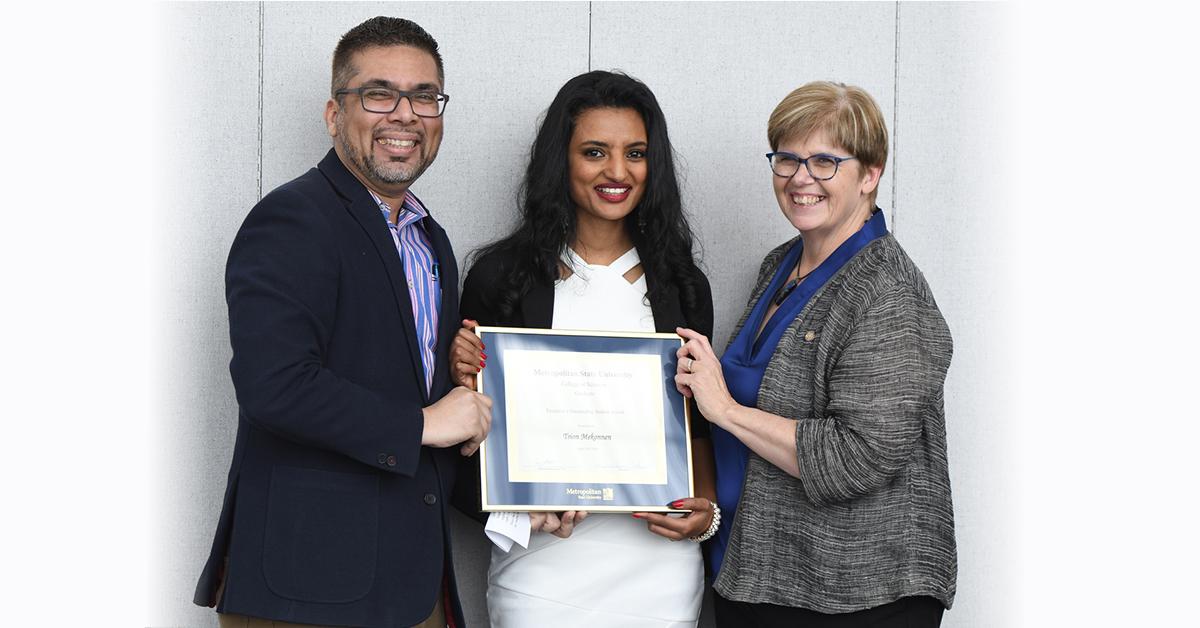 Tsion Fekadu of Saint Paul has been selected a spring semester Outstanding Graduate Student at Metropolitan State University.
Fekadu graduates summa cum laude with a master's degree in computer science and is a President's Outstanding Graduate recipient for the university's College of Sciences. She is one of 1,079 graduating students in the spring semester. Metropolitan State's 104th commencement exercises take place April 27, 2019, at the Minneapolis Convention Center to confer bachelor's, master's and doctoral degrees.
In August 2017, Fekadu faced her biggest challenge with the death of a family member. "My father was the most influential person in my life, who taught me the values of hard work, and to dream big. Between balancing the loss of my father and school, my professors Paul Hyde, Demodar Chatty, and Michael Stein were very understanding and supportive; they kept me going." Fekadu also gives credit and thanks to her advisor and professor, Faisal Kaleem, for his mentorship and the opportunity to work under his supervision. 
"Tsion is a first-generation female student, who will be graduating this semester with an MS in computer science with a concentration in cybersecurity," says Kaleem, professor of computer science and cybersecurity. "She is a hardworking, determined, and a committed student with an interesting story of her hard work and hardships she faced after coming to the U.S. She is a good example for those women who think that they will never be successful in fields like computer science and cybersecurity as they are male-dominated. With good community service, and many professional accomplishments, I don't know if there is anyone else better deserving than Tsion for the President's Outstanding Graduate Student award." 
Fekadu resides in Saint Paul with her brother. She is currently an intern at Hennepin County and graduate research assistant in cybersecurity at Metropolitan State University. She plans to explore career opportunities after graduation. In the community, Fekadu is an active member of Women in Cybersecurity and Zion Evangelical Fellowship Church in Saint Paul.
Each fall and spring semester, colleges at Metropolitan State nominate students for the Outstanding Student and Outstanding Graduate Student awards. Nominees are evaluated on the basis of their academic performance in their degree program, as well as achievements in their community and professional contributions. All finalists are recognized in the commencement program, outstanding students receive special recognition during commencement, and are eligible to speak at commencement.
Metropolitan State University, a member of Minnesota State, is the Twin Cities' public, urban, comprehensive state university providing lifelong learning and competitive academic and professional degree programs at the bachelor, master and doctoral levels.