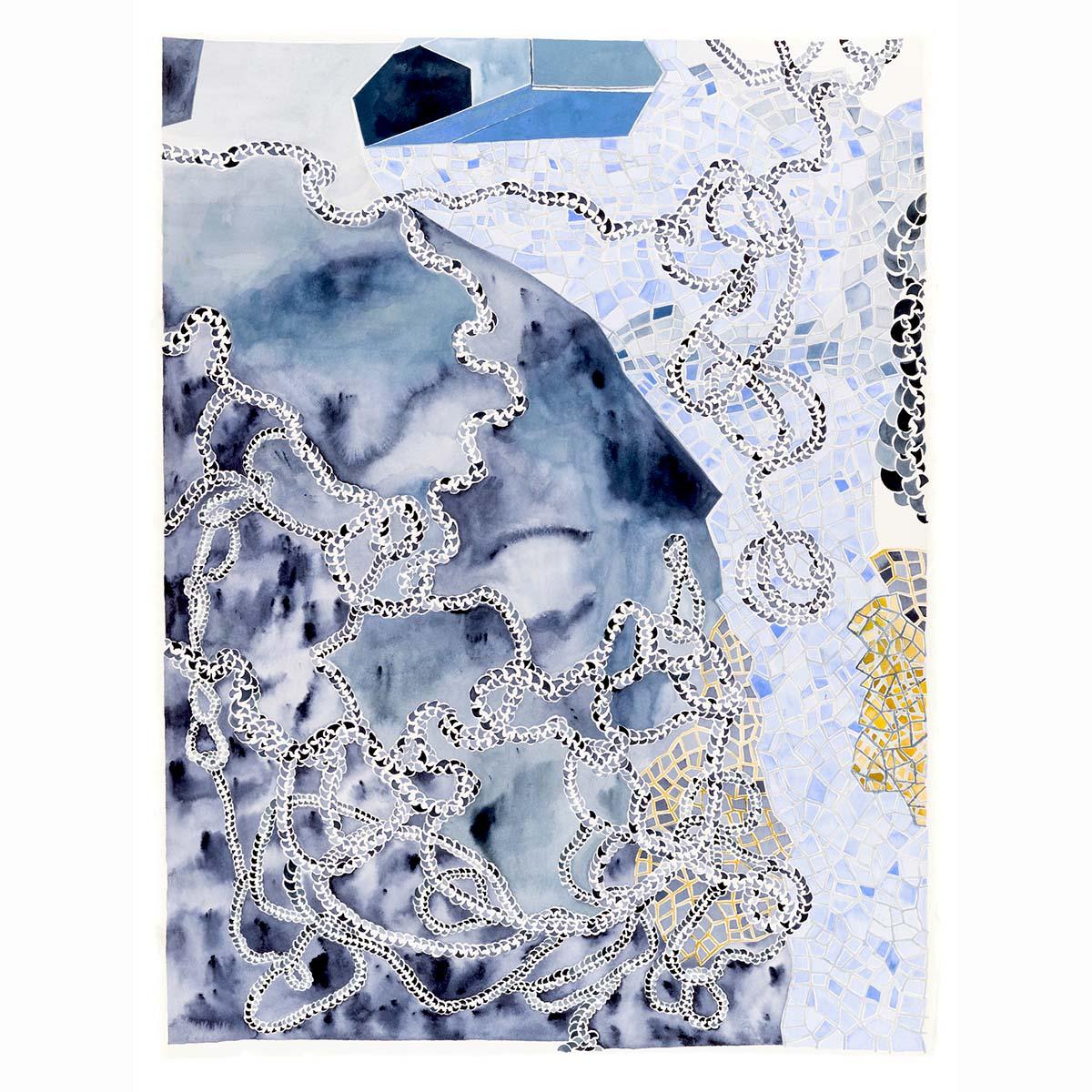 In observance of Holocaust Remembrance Day, "The Shape of Memory" features the monumental watercolor paintings of Plymouth, Minn., artist Keren Kroul in this solo exhibit at Metro State University's Gordon Parks Gallery.
As a child, the artist discovered two braids wrapped in cloth in her grandmother's nightstand. Her grandmother was a Romanian Jew of Austrian descent who survived the Holocaust. The braids belonged to her grandmother's twin, who did not survive the workcamp where they were imprisoned.
Kroul's father, who was an Argentine university student during the onset of the Dirty War, was imprisoned by the military police. He, like many young intellectuals, was considered to be left-wing and anti-fascist. He managed to escape his homeland, while thousands of others perished.
Kroul was born in Israel and grew up in Mexico and Costa Rica. The artist settled in the United States but continues to move back and forth between the cultures and the countries of her loved ones. Now a mother herself, she questions ideas of what makes a home and what constitutes security. The multi-paneled watercolor paintings that cover the gallery's walls explore these ideas, while ruminating on her family's complex narratives of genocide. The scale of the paintings is immense, suggesting that stories of her family are larger than herself.
Abstract braids are a recurring motif among the delicate watercolor compositions, weaving one panel to the next in a serpentine path. This path suggests continuity and fluidity as the familial tales intertwine among the various generations. Blue-hued crystalline shapes reference DNA, cells, and cobblestone streets. Blocks of geometric grayish forms allude to tombstones or the architecture of her grandmother's village. Yet, the negative space creates a light and airy affect. Perhaps most striking of all are the colorful bursts of flowers that dominate the latest suite of paintings. Although the alluring, fuchsia-colored flowers are identifiably sweet peas, they represent something ominous. During World War II, the flower was force-fed to Jews in Ukraine to research its toxicity levels. Sadly, it caused paralysis in the youngest of the imprisoned.
The power of this installation revolves around the dichotomy of the situation. Although the paintings were inspired by atrocities and angst, the work is opulent and engrossing. Through the activity of making the ephemeral concrete, Kroul has conjured a hauntingly elegant installation. Ultimately, she has created something beautiful that speaks of human resilience.
The opening reception, 5–7:30 p.m., Thursday, April 21, also features a gallery talk by the artist at 7 p.m. Gallery hours are 1–7 p.m., Monday to Thursday, April 25 to June 23. The gallery is located at the university's Saint Paul Campus on the third floor of the Library and Learning Center, 645 East Seventh Street.
For more information about the exhibit, contact Erica Rasmussen, gallery director, at 651.999.5942 or erica.rasmussen@metrostate.edu.