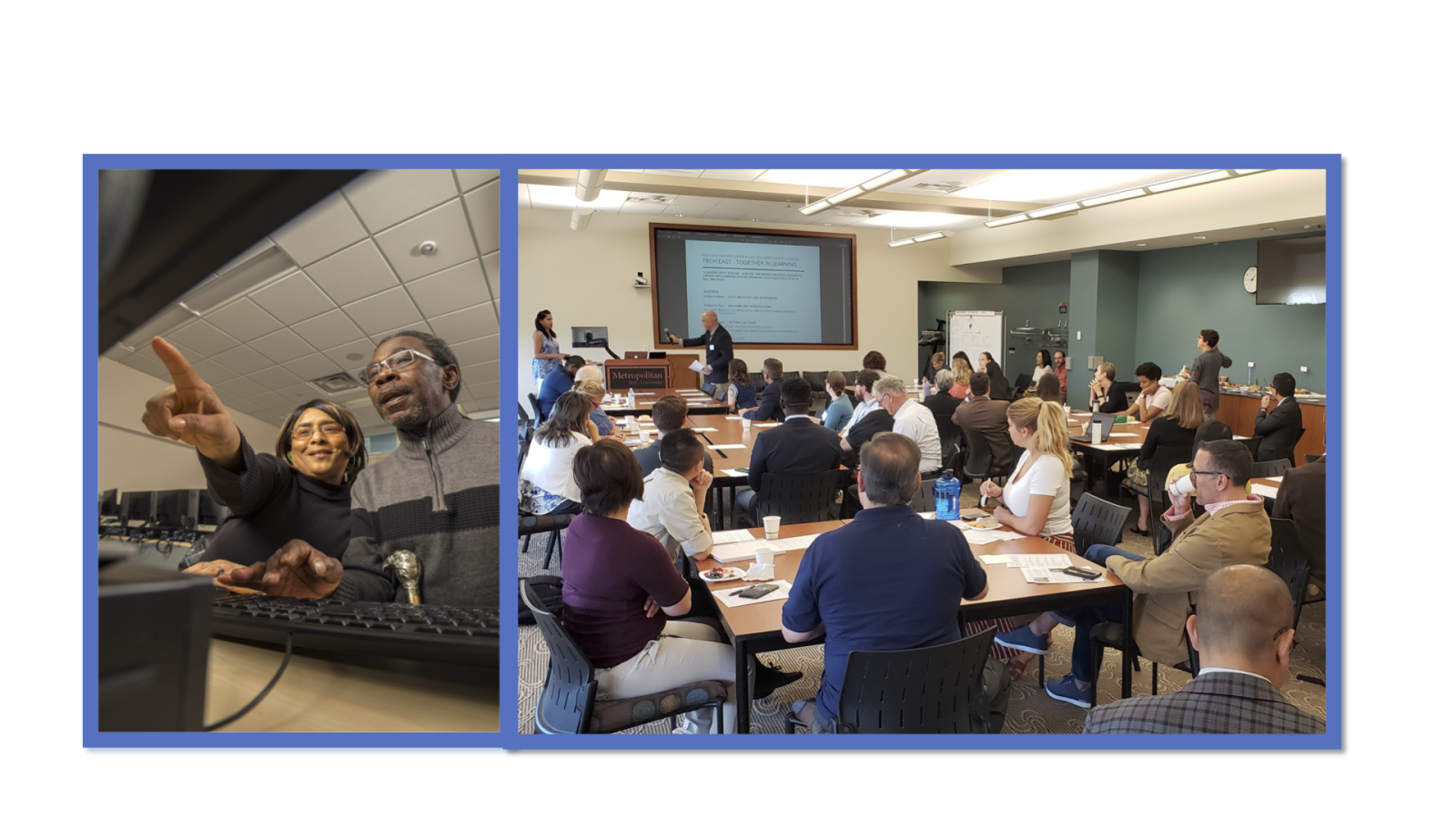 By Jodi Bantley
Institute for Community Engagement and Scholarship
A potentially powerful dimension of the university's unwavering commitment to community engagement is quietly taking shape through the anchor mission initiative—an effort to redirect the university's purchasing power, personnel practices and place-making to benefit the urban communities where we're located.
Several years of joint planning have resulted, this Spring, in a pilot project through the College of Science (COS) that strategically aligns the workforce development goals of Hmong American Partnership, a longstanding leader in empowering Hmong, Southeast Asian, immigrant and refugee communities, with the work of Dr. Faisal Kaleem, the force behind COS' growing cybersecurity education programs. 
For Derlee Moua, HAP's Director of Workforce Development, "This project is important to me and the community I serve because I see the potential of the growing industry. As HAP moves toward becoming an OIC and serving a younger population, we need to prepare them for opportunities in the IT field and provide access to career laddering within it." OICs, or Opportunities Industrialization Centers, are an international network of vocational, educational, and life skills training programs born out of the 1960s US anti-poverty movement that now prepare millions of racially- and ethnically-diverse young people for full-time employment around the world. This partnership enables HAP to create a new pathway from the beginning-level technology certification programs it currently offers with more advanced credentialing through Metropolitan State.
As demand for well-trained cybersecurity professionals continues to rise, Dr. Kaleem, Dr. Sue Fitzgerald, COS Dean Kyle Swanson, along with colleagues in the MN IT Center for Excellence and Metro's Institute for Professional Development, have worked tirelessly to open doors in IT fields for people of color and indigenous people, women and veterans. Four years ago, COS developed a free, intensive, seven-month industry-recognized Cybersecurity Certificate training program as an alternative or complement to a four-year degree in Computer and Information Science. The "stacked" program involves six levels of certification in increasingly complex areas of computing and cyber-security knowledge. Major grants secured through the National Security Agency and National Science Foundation have underwritten tuition and exam fees valued at approximately $10,000 per qualifying applicant. Not surprisingly, applications to the program have vastly exceeded the seats available—by at least three times in each of the three cohorts. The reward for graduates who pass the certification exams? Careers beginning with annual salaries upwards of $50,000!
Bringing its own workforce development funds to cover tuition and fees, HAP has now enrolled a pilot cohort of an additional six students in Metro's January 2021 Cybersecurity Certificate training program. An anticipated 10 more HAP participants, who have completed the first three sets of certifications, plan to join the more advanced courses later this spring, with a new set of recruits joining when the program cycle restarts in fall 2021. Importantly, HAP provides a vast range of culturally-relevant services and resources to support the success of those students and their families. "A commitment like this—whether you're a son, daughter or mother—will affect other people's lives, especially in multigenerational families living together in a household," Moua said. If, for example, a student's enrollment means fewer hours at work or higher costs for childcare or a change in health insurance status, HAP can step in to move barriers to success out of the way—all part of HAP's mission "to empower the community to embrace the strengths of our cultures while achieving our potential."
Beyond providing free training and a meaningful career pathway for the students enrolled this spring, COS and HAP aspire to an ongoing partnership that could generate even more substantial "win-wins." Alongside HAP lies a broader network of 10 culturally- and linguistically-specific workforce development agencies, with Metropolitan State University as its primary higher education partner, that comprise the East Side Employment xChange, where initial research and cooperative planning for this effort began. The xChange has a four-year record of improving access to resources for East Side job seekers through collaborative fundraising, ongoing knowledge-sharing, better coordination of training and services across organizations, more strategic interaction with employers, collaborative hiring events, and high-impact innovations such as this Cybersecurity Certificate Training pilot. With additional funding, the pilot could readily be extended, and support for success provided, to constituents of all 10 local groups.
As employers are increasingly measured by their commitment to equity and public good, the partners can play a pivotal role in helping employers to shift a traditional "surplus mentality" aimed at screening applicants out to one of bringing people in, particularly the communities served by HAP and Metropolitan State who have not had access to these opportunities. Together, Metropolitan State and xChange partners are more likely to attract the sustained public, philanthropic and employer investments required to further build the partnership, as Dean Swanson remarked, "one that views this as an important long-term initiative so we can build a relationship over time and do so more holistically—[to include] more broadly the types of skills that enable economic mobility in the workforce." Moreover, when these efforts result in proactive employer investments in workforce development, higher education benefits from continuously bringing students back. Win-win.
For more information or to explore potential training pathways in other high-demand fields, please contact Jodi Bantley, ICES associate director for civic and community partnerships,  Jodi.bantley@metrostate.edu.