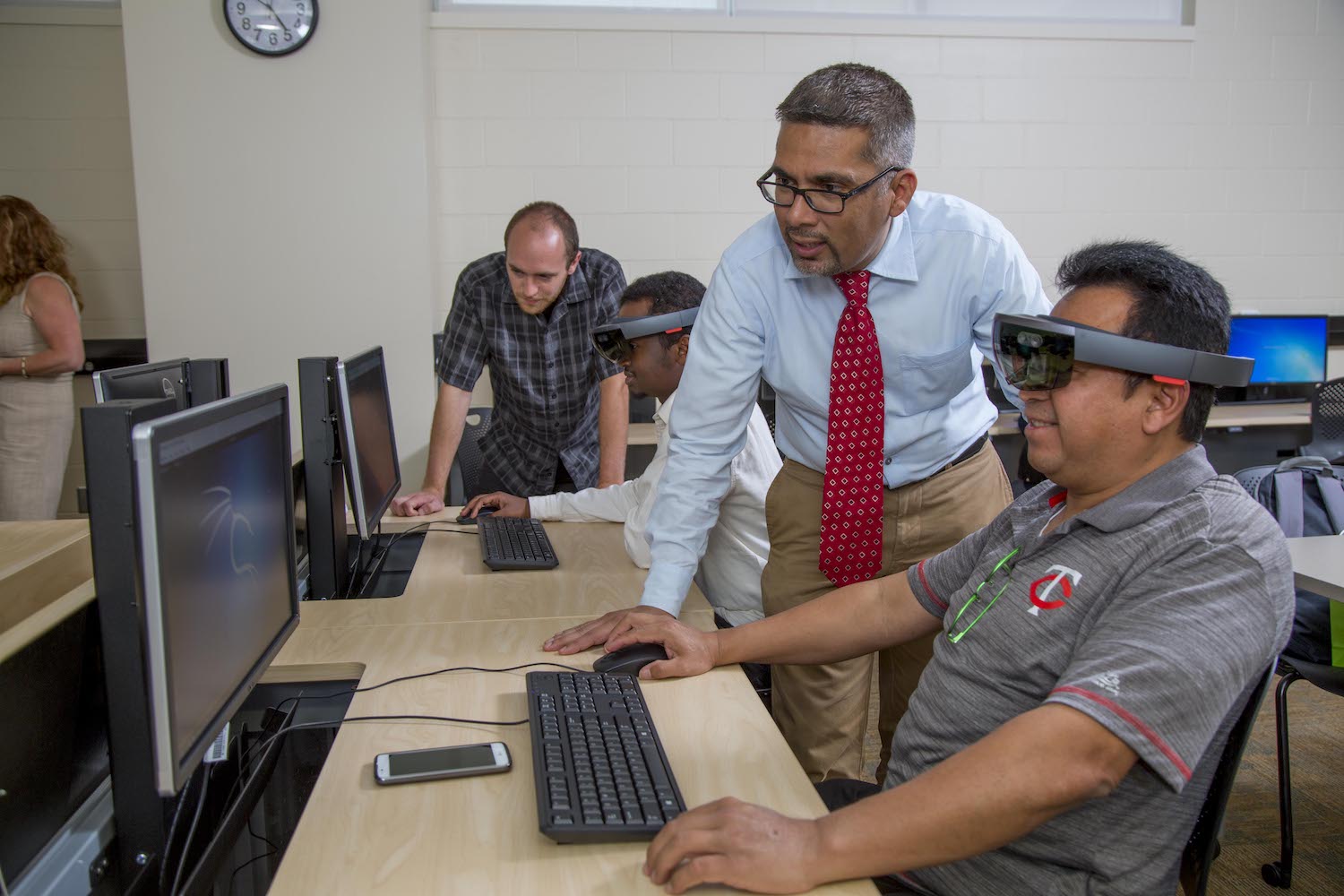 Cybersecurity is a computing-based field that prepares individuals for careers in securing computer systems. It is an interdisciplinary course of study, including instruction in information technology and assurance, computer architecture, programming and systems analysis; cryptography; security system design; applicable law and regulations; risk assessment and policy analysis; contingency planning; investigation techniques; and troubleshooting, often in the context of adversaries.
Learn more about the accelerated combined (BS + MS) degree in Cybersecurity Operations
Metropolitan State's Cybersecurity Certificate is a 24-credit program intended for students who have already graduated with an earned bachelor's degree and would like to reshape their skills and knowledge in the field of cybersecurity. Students without a bachelor's degree in any field are not eligible for pursuing this certificate. The certificate consists of course work designed to develop analytical and problem-solving skills and provide students with both the theoretical and technical backgrounds along with the necessary practical experiences to secure challenging jobs in the field of cybersecurity. The major goal of the cybersecurity certificate is to prepare students with the necessary skills to enter into the cybersecurity workforce by demonstrating an in-depth understanding of contemporary technological and societal issues related to cybersecurity and to be able to contribute to the community at large in a responsible and ethical manner.
Metropolitan State University is designated as a National Center of Academic Excellence in Cyber Defense Education (CAE-CDE) by the National Security Agency (NSA) and the Department of Homeland Security (DHS). CAE-CDE institutions receive formal recognition from the U.S. Government as well as opportunities for prestige and publicity for their role in securing our Nation's information systems. The Cybersecurity program curriculum also conforms to the NSA requirements for maintaining the CAE-CDE designation.

Program Oversight
Positioned under the College of Sciences, MN Cyber Institute is a statewide initiative to position Minnesota as a national leader in cybersecurity through education, innovative public/private partnerships, interdisciplinary research, and community engagement. MN Cyber advisory board comprises of representatives from public/private sectors who provide advice and guidance on the Institute's strategic plans and performance as well as ensure that Metro's cyber-related program offerings are relevant, valuable, and targeted to meet workforce needs.

Prospects
Cybersecurity is in very high demand as a career field, with the projected number of jobs growing 28% over the next decade and starting salaries for well-qualified BS graduates approaching $100,000/year.

Potential cybersecurity career titles include Security Auditor/Manager, Security Administrator, Security Analyst/Architect/Engineer, Penetration Tester, Vulnerability Assessor, Incident Responder, and Secure Software Developer.
Student outcomes
A student graduating with the cybersecurity certificate will be able to:
demonstrate the ability to apply knowledge of cybersecurity concepts, tools and technologies to prevent, detect, react, and recover from cyber-attacks.
understand cybersecurity risks, threats, and related countermeasures and apply this understanding to develop cyber defense strategies.
participate as an active and effective member of a project team engaged in achieving solutions to specific cybersecurity related problems.
demonstrate sensitivity to and sound judgment on ethical issues as they arise in information security and cyber defense and adhere to accepted norms of professional responsibility.
Gainful employment programs are those "that prepare students for gainful employment in a recognized occupation." Public institutions are required to report this information for all undergraduate and graduate programs that are Title IV eligible and that lead to certificates, diplomas, graduate certificates or specialist awards. Degree programs at all levels are not considered to be gainful employment programs.