The most common interview mistake made by job seekers is not preparing for the interview. The Career Center has complied information for every aspect of the interview for your review. Even if you don't have an interview scheduled, it is not too early to start thinking about responses to interview questions. The more thorough your preparation and the more focused your responses, the more grounded and confident you'll feel at the interview.
Getting an interview begins with job search. If you are looking for a place to start in your job search, check out the resources from the Career Center. Quality job search efforts may result in an offer for an interview. Make sure you have a rock-solid résumé ready to go.
By attending campus hiring events you are able to network with local employers. Career fairs and networking events are productive ways to land an interview and build your network. In person and virtual events are both worth attending. You can always find what career events are happening on and off campus on Handshake.
There are many different interview types. As a job seeker, we encourage you to be ready for all of them.
Phone interview
A phone interview is common for a first-round interview. Typically, employers are looking to verify that the applicant meets the minimum qualifications or fits in the company culture.
Phone interviews might be scheduled or the employer might call at random and ask if you are available to conduct the phone interview on the spot. Be prepared for either occasion and do not answer your phone if you are not able to concentrate on the caller; such as while in transit or in class.
If you know you are job searching, make sure your voicemail is working and up to date. Your outgoing message should clearly state whose phone has been called instead of a default automated message. Your caller wants to know they have reached the right person before they leave a message.
Automated interview
Automated interviews are one of the newest types of interview styles. You will need a working camera and mic on your computer to complete this type of interview.
A job seeker can be expected to receive a link that will open up to a prerecorded message from the employer. This will ask the job seeker to answer interview prompts while being recorded with the expectation that the interview is completed during the established timeline.
Sometimes the job seeker is given a time limit to answer questions and/or the opportunity to watch and rerecord their answers, but not always. Reading directions for clarity is essential. After you complete your interview, your recordings are sent off to the Human Resources team for review.
Tips provided on how to be successful in video interviews also apply to automated interviews.
Employers who use this type of interview consider it to be an opportunity to bring equality into the interview process. It ensures all candidates are receiving the exact same questions in the same format. They also see this as an opportunity to interview a large number of candidates at a lower expense to the employer.
Video interview
Video interviews can take place on a variety of platforms, such as Skype, Zoom, or Microsoft Teams, just to name a few. If you are not familiar with the specific technology you are using for the interview, make sure you test it out before the interview. Practice with a friend.
Look directly at the camera. This gives the impression that you are making eye contact. This is easier if you have your computer camera at eye level. Try propping up your laptop or monitor.
Try to have a neutral, distraction-free background and environment.
Make sure your interviewer can see you. Adjust the lighting in your space to make sure you are visible. Ideally, the top half of your torso and your head are all visible.
Even in a video interview dress to impress. Your interviewer wants to see that you are taking the interview seriously and one way to show that is through your clothing. Do you want more tips on how to dress? Check out the "What to Wear" section below.
Have a backup plan. When the interview is scheduled, make sure you have a contact number to call in case your internet goes out or the connection is dropped. If this is not offered, ask!
One-on-one interview
This is the most common interview type. This is where the job seeker and employer meet 1:1 and have a conversation about the position.
Every interviewer has their own style or process, so no two interviews will be exactly alike.
Panel or committee interview
In a panel interview, the job seeker meets with two or more people conducting an interview. Typically, the panel members will take turns asking questions. Make sure you engage with all panelists when you speak.
Pro Tip: When your interview is scheduled, ask who will be interviewing you and their titles. This will alert you to how many people will be in your interview and give you an opportunity to research who you will be meeting with.
Group interview
Group interviews are not very common, but they do happen for positions where the employer needs to do a lot of hiring. Expect 1 or 2 employees to ask a group of potential candidates to answer the same question one at a time or work on a shared project together.
Employers who use this type of interview consider it to be cost effective and an opportunity to see how individuals work in team settings. Try not to focus on the other candidates. Be yourself and do the best that you can do.
Meal interview
Sometimes interviews may take place over the course of a meal. A job seeker may eat with one person or a whole team. Each interview will be different.
When this type of interview is being scheduled you are encouraged to inquire about the dress code for the restaurant and plan accordingly.
If you know where you are going to eat before you arrive, take a look at the menu before the interview and pick out your meal in order to avoid spending time trying to decide during your interview. You are encouraged to order something you are familiar with and know how to eat (This isn't the best time to try lobster if you have never cracked into a claw).
Although this setting can feel a lot less formal than a traditional interview, you are still being evaluated. Continue to treat this time like it is an interview. Focus on your assets that make you the best candidate for the job.
You have been invited to an interview! Congrats! Now you have some work to do to prepare.
Research to do
Research the company you are interviewing with. This research will help you identify:
If you really want to work with this company
What is important to the company
Talking points for your own interview answers
Additional questions you may want to ask or learn about in your interview.
An employer wants to know that you want to work for them. It's assumed you are applying for the job because you want it, but an employer wants to know why. Your research should be able to help you formulate an answer to the question "why do you want to work here?" "Because you are hiring" will not be an acceptable answer.
If you know who will be interviewing you, research that person as well. Employers research us through our application materials and sometimes through social media accounts. It is expected that you are doing this same kind of research. Look up who will be interviewing you on LinkedIn and learn about their career path and what seems important to them. This effort will help you focus your answers on topics related to the work you are interviewing for.
What to wear
Appropriate clothing varies from career to career. A helpful guide is to dress one step up from what people usually wear so you will look professional but not overly dressed.
Other helpful tips:
Select clothing that is muted or dark colors. Black, navy, charcoal grey are good options.

Choose a shirt that is simple and not too bright. Always err on the conservative side. You want YOU to be the focal point, not a distracting pattern.
Make sure clothing fits well. You want to look put-together and should not be tugging or adjusting your clothing during an interview. Tight or low-cut blouses, tight pants, or short skirts send a decidedly unprofessional message.

Make sure shoes, socks, hosiery, and belts coordinate with your clothing.
Accessorize sparingly. Less is more — simple jewelry and clean make-up.
Make sure your clothing is clean and wrinkle-free.
Keep hair neat and groomed.
Do not wear strong cologne, perfume, lotions, etc.
Smokers beware — many people are put off by the smell of smoke. Try not to smoke before an interview. Covering it up with perfumes or sprays can make it even stronger.
Going into an interview with some nervousness is normal and somewhat expected. There is a certain level of nervousness that can come off as excitement and deep interest in the position. For some, nerves can become too much and cause poor performance in an interview.
Mindfulness and meditation are techniques that have helped many prepare for an interview. The Career Center has provided two different resources that might help you get into the interview mindset that will help you be the most successful in your next interview:
Anticipating Interview Questions
You will never know exactly what questions the interviewer will ask but you can be sure they will want you to prove that you have the qualities and skills they listed in the position description. Most interview questions are behavioral, which means they will ask for examples – "Tell me about a time you had to …"
Use the position description from the job posting an to help prepare for the interview. The following job description example shows how you can go through and highlight everything the employer thinks is important in a candidate. You can be sure, if it's in the job posting, it's important to the employer and you should be prepared to relate your experience to each point.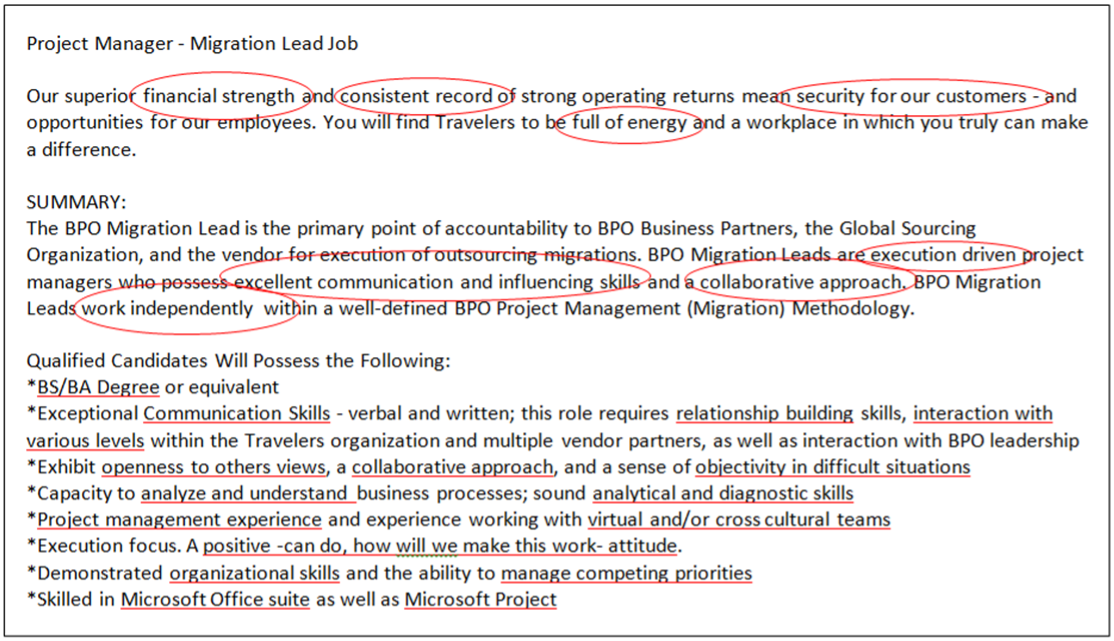 The first paragraph gives clues to what the company values. Use this information to your advantage. You know they value financial strength, consistency, security for their customers, and an energetic work environment. How do your values compare? The interviewer will want to know that you have similar values and you are motivated by these things.
The summary of the position tells you some of the top qualities they want in an employee. Excellent communication and influencing skills, a collaborative approach, and the ability to work independently within a defined methodology. You will want to be prepared to provide examples of times you demonstrated these qualities.
The qualifications section is pretty straightforward. Think about examples and practice talking about your experiences that show how you used all of the skills mentioned in this section.
Practicing Interview Questions
The old saying "practice makes perfect" applies in interviewing. Your actual interview should not be the first time you are considering common interview questions. Practicing interview questions will allow you to reduce the time it takes in an interview to think of a response, because your answers will be on the top of your mind.
Practice answering questions out loud. Talk to yourself in a mirror or practice with a friend. Use your Zoom Account to record yourself and watch back to hear and see how you did. The Center is available to practice interviewing with you. It will be weird and awkward, but we want you to get those uncomfortable feelings out of the way before the real deal.
A simple Google search will help you find some common interview questions and tips on how to answer them. Practice, practice, practice.
Check out some common interview questions
What You Need to Know to Answer 7 Common Interview Questions
How to Answer Questions About Your Strengths and Weaknesses in an Interview
Make the connection between your experience and what the employer is looking for. Be able to apply your previous work, school, and volunteer experiences to the open position. Give specific examples to illustrate your skills.
4 key components to fielding questions:
Advance prep
Concise, specific answers under 60-seconds
Demonstrate ability to perform job
Show ideal worker persona (passionate about your work; lifelong learner; positive attitude, flexible/adaptable)
Develop examples / stories (people LOVE them) that you can use to respond: what experiences do you want to emphasize that will showcase your skills / strengths?
Prepare for Behavioral Based Interview Questions
A common interview question type is behavioral based interview questions. These questions often start with "tell me about a time when" or "Describe for me". Your interviewing is looking to hear a specific story from you and learn about your past behaviors. Past behaviors often are a good predictor of how you will behave in the future.
Use the STAR Model in answering behavioral based interview questions:
Situation: What was the situation?
Task: What has happening?
Action: What did you do?
Result: What was the result?
Or in short, remember every story has a beginning, middle and end. Share details that help your listener understand exactly where you were and what you were doing in your story so they can picture you at work. Stories should be about 60 seconds in length.
Check out this great resource from Mayo Clinic on Behavioral Based Interview questions:
Bring a portfolio. Bring copies of your resume and reference list. Employers love to see concrete examples of your work. Prepare a sample of projects to match the job description. Bring extra copies so you can leave it with the interviewer.
You can also bring something to write on and something write with to an interview. These tools can be used to write down any important information you learn during the interview or carry the questions you plan to ask when given the opportunity to during the interview.
Be on time. On time means you have checked in with the main desk/receptionist 10 minutes before your interview. Any earlier can make an interviewer feel like you are imposing on their time, especially if they have back-to-back interview schedules.
If you are traveling to the interview, make sure you have mapped out your route in advance. Do you know where the nearest bus stop is or if parking is available? Plan in order to ensure smooth travels on the day of the interview. Make sure to get the phone number of who to call in the event you are delayed due to weather or traffic. Do everything in your power to avoid having to call.
When you interview, consider that any person that you interact with may have an impact on the hiring decision. Consider your behavior in the parking lot, the reception area, any anywhere else you might find yourself. How would you feel if the person who interviews you ended up being the person you cut off in the parking lot or didn't hold the door for in the elevator?
What makes a good impression?
Firm handshake
Dressed for success
Knowledgeable about the position and qualifications
Demonstrates active listening
Sincere, courteous, businesslike
Good eye contact
Speak clearly, with confidence
Actively and enthusiastically engage from the start
Nonverbal signals—posture, smile, dress, confident walk, energy
Your body language is more important than you think! It is estimated that 7% of what is heard by our listener is the actual words that we say. 38% of what is heard is our tone and the remaining 55% of what is heard is said in our body language. Consider the implications for this in your next interview.
Use your research to ask intelligent questions. Ask about future projects, the direction of the industry, or specific challenges with the position. Use your questions to showcase your business knowledge and interest.
It is best practice to come prepared with 3-5 questions to ask. You may not have time to ask them all, but there is the potential that the interviewer will answer some of your questions. It is ok to bring a list of written out questions to the interview. This will allow you to focus on the questions you are being asked verses spending mental energy trying to remember the great questions you thought of at home. Bring the list out when you are asked "What questions do you have for us?"
Employers report that when a candidate does not have any questions for the interviewer they will assume that the candidate is not interested in the job. No job description can adequately describe every aspect of a job. This is your opportunity to learn what you need to know in order to decide if the position is one you want to accept.
Here is a sampling of interview questions you might want to ask the committee.
Who would I report to and how would you describe his/her management style?
What is the organizational structure of this position and this department?
What major challenges and opportunities are facing this institution/organization?
Are there any institutional/organizational changes or initiatives that may affect this position or this department?
What type of training programs do you offer to new employees?
What opportunities are there for professional development?
What is the typical career path for a person in this position?
Is there opportunity for advancement in this position?
How is the position evaluated?
What are the next steps in the decision-making process?
What are the most important duties of this position?
Illegal Interview Questions and How to Answer Them
Finish your interview up strong. Thank the interviewers for their time and the opportunity. Express how you feel the position is a fit and reiterate your interest in the position.
Follow-up by sending a thank-you note or email within 24 hours of the interview. It is estimated that only 5% of job seekers send a thank you note. Stand out for your gratitude.
A thank you note is an additional way to express interest in the position you interviewed for. It is also an opportunity to share any additional information you any have forgotten to share in your interview. These notes do not have to be long. A simple paragraph can effectively communicate your gratitude.
Avoid discussing salary until the employer brings it up. Salary conversations will often take place at a second or third interview or during the offer stage. It is best to research salary before the first interview so you are prepared to speak intelligently about the standard salary range for the position.
The following sites can help you research:
So You Didn't Get the Job
Not getting the job you had your heart set on is a big bummer.
There are a lot of reasons why a job seeker may not get the job:
Application form or resume is incomplete or sloppy
Overly aggressive behavior
Lack of maturity
Lack of interest and enthusiasm
Nervousness or lack of confidence and poise
Responding vaguely to questions
No genuine interest in the company or job
Lack of planning for career; no purpose and no goals
Over-emphasis on money
Unwillingness to start at the bottom
Negative attitude about past employers
Failure to express appreciation for interviewer's time
Do any of these apply to you?
If you want to follow up with the employer after not receiving a job, you can. Keep these recommendations in mind:
Ask questions
Do not display anger or dismay
Ask to be considered for future opportunities
Use as a learning opportunity
Ask if you may use the interviewer as a network connection
It may be hard to hear, but in some cases not getting the job is in your best interest. If an employer believes you will not be a good fit for their company, they might be right. Not getting the job offer allows you to find a better fit. Keep trying.
Once you've started looking for a job, you might be shocked at how long the search takes. By its very nature, the job search is stressful. It's a process over which we have little control. A few suggestions: Instead of watching the calendar, focus on the execution of your plan. Be patient, diligent and persevere.
Don't be afraid to ask for help from Metro State staff, faculty, and friends. Join a job search support group for ongoing support. And remember, you will land a great position—it's just a question of where and when!
"Be persistent. Don't rush to answer questions. Just breathe and enjoy this awesome conversation you get to have to learn about the company and the position while also sharing how amazing you are. Remain positive and persist. You can do this! The perfect job for you is out there just waiting for you."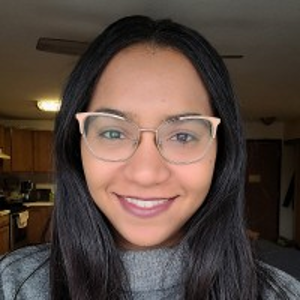 — Janaya Graham
Metro State computer science graduate '21