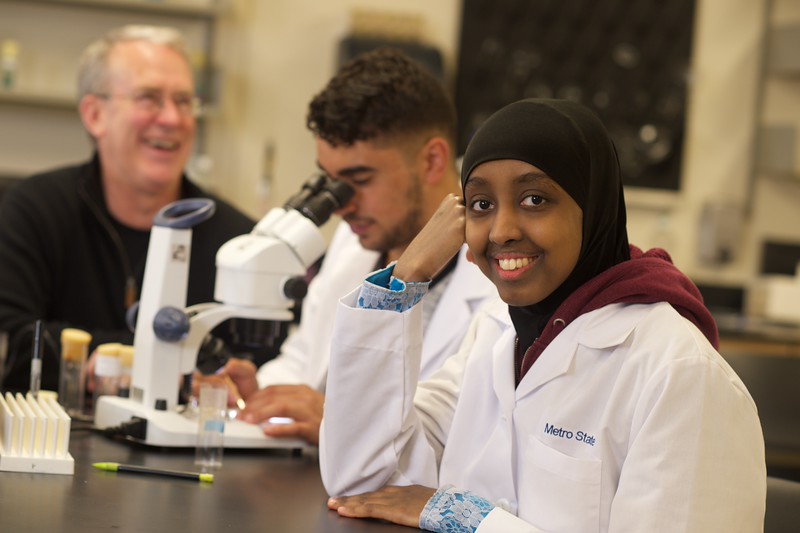 Biology is the study of life, from the simplest cells to the most complex ecosystems. When you study biology you develop an understanding of your own life and an appreciation for your connection to the natural world. A biology degree helps open the door to a broad range of fields including health care, food science, public health, biotechnology, conservation and natural resource management.
Biology graduates may choose to continue on to professional and graduate programs in health care, research and education. The biology major provides students with scientific knowledge, laboratory skills, research experience and intellectual training in analytical and quantitative reasoning.
The Bachelor of Science in Biology offers students a comprehensive introduction to the biological sciences with a strong foundation in mathematics and the physical sciences, followed by advanced study in at least one area of student interest.
Are you interested in a Biology degree? Sign up to learn more at our information session on October 13 at 5 p.m.
Student outcomes
Students will be able to:
Read, analyze, present and interpret quantitative data.  More specifically, students will be able to:

Read and interpret a graph
Choose the graph type appropriate for a given data set
Construct a graph from quantitative data
Evaluate the results of a statistical test presented in terms of sample size and p-value

Demonstrate competence in Cell and Molecular Biology.  More specifically, students will be able to:

Describe in detail the structure of DNA and the process of gene expression
Explain and apply the principles of genetic inheritance, mutation and DNA repair 
Apply knowledge of cell structure to cell function

Demonstrate competence in Ecology and Evolution.  More specifically, students will be able to:

Apply the principles of Hardy-Weinberg analysis to population genetics data
Apply the principles of exponential growth to population data
Calculate and interpret species richness and an index of biodiversity from ecological community data

Demonstrate competence in Organismal and Physiological Biology.  More specifically, students will be able to:

Apply the principle of structure-function to organismal traits
Apply knowledge of how physiological systems can change in both short and long term situations, including homeostatic and pathological situations
Read and interpret a phylogenetic diagram
Create a phylogenetic diagram given a set of character data
Related minors