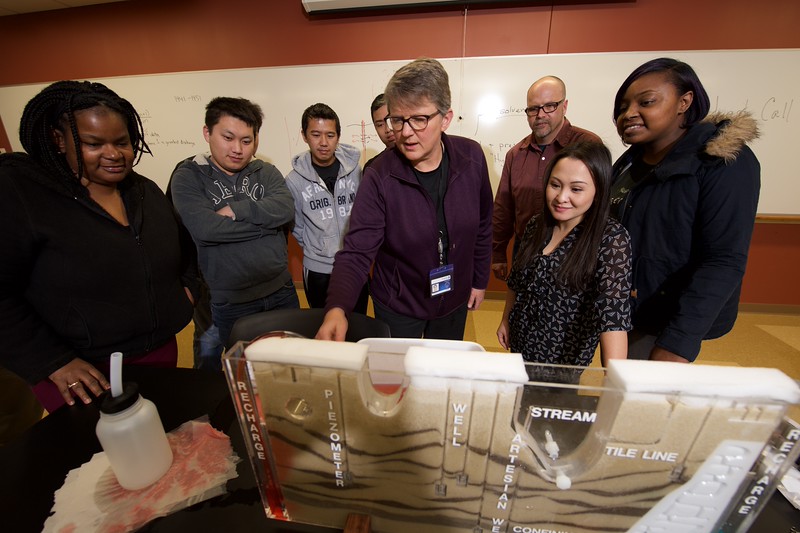 Environmental Science is the study of the biological, chemical, physical and social science principles that govern the structure and functioning of the natural world. Through the study of environmental science the student develops an understanding of their own life and an appreciation for their multifaceted role in the natural world.
The Environmental Science major begins with a solid foundation of mathematics, physics, biological and social science, upon which the study of environmental science is built. The major provides students with scientific knowledge, laboratory skills, research experience, and intellectual training in analytical and quantitative reasoning. The program emphasizes the development of transferable liberal arts skills and includes the flexibility for students to pursue their own academic interests in the field as part of their degree program.
A degree in environmental science helps open the door to a wide range of fields including applied science, pollution management, conservation biology, public health and natural resource management. Environmental science graduates may choose to continue on to professional and graduate programs in research, management and education.
Are you interested in an Environmental Science degree? Sign up to learn more at our information session on October 13 at 5 p.m.
Student outcomes
Students will be able to:
Read, analyze and interpret quantitative data. More specifically, students will be able to:

Read and interpret a graph
Chose a graph type appropriate for a given data set.
Create a graph from quantitative data
Interpret the results of a statistical test presented in terms of sample size and p-value

Demonstrate competence in physical science. More specifically, students will be able to:

Understand and apply knowledge of atmospheric chemistry and physics to the function of the ozone layer of Earth's atmosphere
Understand and apply knowledge of atmospheric chemistry and physics to the greenhouse effect on Earth's climate
Understand and apply knowledge of the role of biological processes such as photosynthesis and respiration in the history of life on Earth

 Demonstrate competence in Ecology and Evolution. More specifically, students will be able to:

Understand and apply to population genetics data the principles of Hardy-Weinberg analysis
Understand and apply to population data the principles of exponential growth
Understand and apply to community data the principles of food web analysis

Demonstrate numeracy and college-level skill with mathematics. More specifically, students will be able to:

Read and understand the representation of relationships using mathematical symbols,
Use algebraic techniques to solve equations for the unknown term
Use fractions to represent and solve problems involving quantitative data
Use exponents and logarithms to represent and solve problems involving quantitative data
Related minors